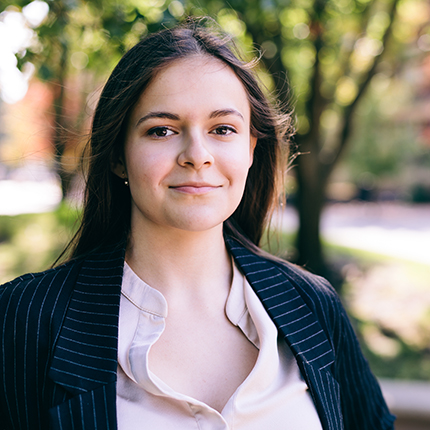 December 2021 graduate Yana Petrova made the giant leap to West Lafayette from Krasnoyarsk, Russia, where she first learned about Purdue in a class that helped international students apply to American universities.
"I researched more about Purdue and loved the fact that it is very diverse and has a lot of majors to offer," she says. "As I was making the decision about which university to actually attend, Purdue stood out as the best choice for me in terms of financial investment and a strong STEM culture."
Petrova began as an economics major in the College of Liberal Arts before transferring to Krannert's economics program. "I appreciated the major's quantitative and business focus," she says. "However, I wanted to get professional experience in the U.S. to aid my studies, so I added finance as my second major to be more competitive in the labor market."
As an international student, Petrova had a challenging first semester. "Coming from a country with a strong academic emphasis, I was mostly focusing on school without much involvement anywhere else," she says. "Luckily, I had professors who understood my struggles as a non-native English speaker and took extra time for me to be successful in their classes."
With a double major, Petrova chose not to add a minor to her studies, but a concentration in business analytics fit perfectly. "At the time, I was participating in the first Data Mine Learning Community set up by Purdue, which helped me to realize the importance and ease of using more quantitative strategies to aid businesses," she says.
Among her favorite courses were MGMT 310 (Financial Management) and MGMT 647 (Financial Engineering). "MGMT 310 was a stepping stone in the realization that I want to focus my studies and career in the sphere of finance," she says. "MGMT 647 was one of my favorites because of a personal interest in the topic. It had a great intersection of the challenges of quantitative finance and a graduate level course. Additionally, I had strong support from the professors. They devoted their time to class discussion and to personal career advice, even providing referrals to industry professionals."
For the last five semesters, Petrova has served as a teaching assistant to Prof. Roy Dejoie in MGMT 288 (Programming for Business Applications). "My main responsibilities are helping students during class time with any technical problems they might encounter during the lecture, holding office hours to clarify the class material, and grading the assignments," she says. "I enjoy helping students make the first steps into programming and understand how powerful these tools can be for a business professional."
Petrova has also completed several internships, beginning as a financial data analyst with a small data-driven startup. "I focused on building a customer-based corporate valuation model that helped the management team to refine their cash flow expectations," she says. "It was a great experience to learn more about important financial metrics for a company and various tools like Excel, Python, and SQL to help with the analysis."
Following her junior year, Petrova secured an internship with the audit team of a "Big 4" accounting firm. "I couldn't have an in-person experience because of COVID-19, but I still had a chance to learn more about accounting and audit," she says. "It helped me realize that I didn't want to focus on accounting as my main career trajectory, but it deepened my accounting knowledge to be more fluent in my next finance experiences."
One of those experiences came in summer 2021 when Petrova worked at Eli Lilly and Co. as a finance intern. "I collaborated with finance teams and data science professionals on a feasibility study of a forecasting product," she says. "I was able to gain skills in project management and learn more about Lilly's culture."
Upon graduation, Petrova will return to Eli Lilly full-time as a financial analyst. "I am excited to learn more about the pharmaceutical sphere and all the specifics of finance," she says. "In the long run, I am considering getting a master's in financial engineering if I decide to pursue more quantitative finance career opportunities, or getting an MBA if I want to continue building my expertise in corporate finance."