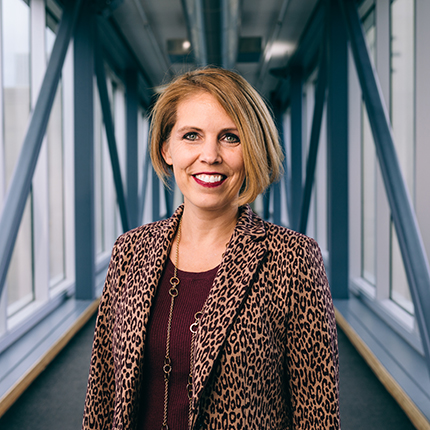 Cara Putman, a clinical assistant professor in business law, communications and ethics, is taking her excellence in the classroom into her new role as director of the Daniels School's Brock-Wilson Center for Women in Business.
Putman was recognized in 2021 as one of two winners of the Alumni Teaching Excellence Award. It recognizes her work in Management 254, Legal Foundations of Business, which she has taught since 2012. She also was recently selected by Poets & Quants as one of the Top 50 Undergraduate Professors of 2021.
Putman links her courses' learning objectives to activities designed to allow students to apply their knowledge to real-life situations. Her methods proved to be especially effective during the past two years in keeping students engaged while they were dealing with a COVID environment.
"One of the things that COVID really highlighted for us is that communication between faculty and staff and the students is so critical," Putman says. "Purdue did a good job planning, but it still was challenging for students because every professor did things differently."
Putman has a JD from the Anton Scalia School of Law at George Mason University, an MBA from Purdue University's Daniels School of Business, and a BA from the University of Nebraska-Lincoln. She has also served as the School of Management Honors Director and led five study abroad programs.
In the classroom, Putman sees herself as a translator, removing as much complexity as possible and helping students understand how legal concepts intersect with the business world.
"My role is to help students take complex legal principles and break them down so they can apply them to their jobs as managers," she says. "I want them to leave with concrete pictures and ideas about how the law intersects with the jobs they will do. If it is all esoteric and theoretical, then it doesn't connect to their real world. I want to bridge that gap."
In her new role as director of the Brock-Wilson Center for Women in Business, Putman is taking a strategic look at what the center already has in place and explaining to students why it's important for them to engage with the various opportunities.
"For example, study abroad is an academic and a career competency experience. Employers are looking for students or recent graduates who can work in an intercultural context, and study abroad provides that," she says. "It's a really safe way to expose our students to what it's like to learn and live in another culture while also moving towards graduation."
In addition, Women in Business students can take two courses their first year — Navigating Gender in the Workplace (MGMT 29400) and Bridging the Gender Divide at Work (MGMT 29450).
"Both courses equip young women with the tools to walk into any environment and be a confident advocate, as well as to step in if somebody else is experiencing the impact of gender issues in the workplace," Putman says. "Students need to learn how to speak up effectively for themselves while also being part of the solution for other people."
In partnership with the Purdue University Summer College for High School Students, the Brock-Wilson Center also offers an annual summer program for college credit, the Empowering Women in Business Fun-Sized Course.
Designed for young women in high school, the five-day residential credit-bearing course on Purdue's West Lafayette campus includes hands-on activities to promote team building and skills in leadership, confidence and negotiation. The program introduces students to the business principles of economics, strategy, marketing, supply chain, and finance, while other fun and engaging activities provide a glimpse of life as a Purdue Boilermaker.
The center's recruiting efforts expand beyond the summer course, however.
"We want to better reach young women and help them see themselves at the Daniels School," Putman says. "Especially as we're coming out of COVID, people are hungry for community even more than they were before. The Brock-Wilson Center is a place where young women can find a place where they belong, where they are welcomed, and where they can get the best experience possible while they're at Purdue."