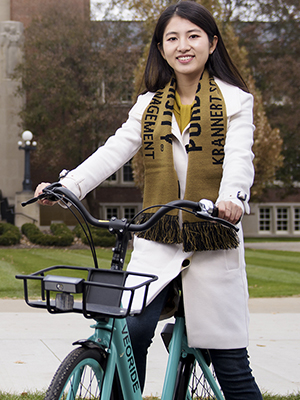 When Candice Xie came to Purdue University in 2014 following two years studying finance at China Agricultural University, entrepreneurship wasn't in her plans. She chose the same major at the Krannert School, and after earning a BS degree with distinction in 2016, Xie spent more than a year at Schneider Electric as an associate in the company's Finance Advanced Development Program.
Meanwhile, an idea she had formed with fellow Purdue graduate Edwin Tan while working as a student consultant at the Purdue Foundry never left her mind. That idea became a reality in 2017 when she and Tan, who has a MS in mechanical engineering, cofounded and launched a dockless bicycle sharing startup called VeoRide.
The company's goal of providing affordable, environmentally friendly transportation in and around universities with dense student populations and a strong bike access made Purdue the perfect choice for a pilot program. Following two months of testing, VeoRide made its official debut in October 2017 when Xie and Tan placed 160 of their distinctive teal-colored bikes around the West Lafayette campus and made a phone app available on Apple Store and Google Play.
Less than two months later, the Elevate Purdue Foundry Fund rewarded their efforts by awarding VeoRide "Black Award" status and up to $20,000 in funding.
We hope to revolutionize how people use bike shares by giving riders a greater sense of freedom," Xie says. "Any bike rack could potentially become a VeoRide station, so customers won't have to worry about returning or retrieving bikes to and from a specific location.
VeoRide's mobile app allows riders to see all available bikes and their locations within the community, then recommends the nearest available bike and suggests a route. It also offers a reservation platform to reserve a bike before pickup. After reaching the bike, riders scan its unique QR code onto the app and "unlock" the bike. Upon finishing the ride, customers push the smart lock button to "lock" the bike and complete the automatic payment process at a rate of 50 cents for every 15 minutes.
Our policies aim to not limit traveling distance and to be more convenient for the user. Our customers will save their credit or debit card information to the app, which allows us to collect payments automatically," Xie says. "Always putting our riders first, we securely record and store their personal information in encrypted databases and partner with a third-party payment gateway provider that has the highest level of compliance."
Meticulously designed by Tan, VeoRide's bikes also encourage eco-friendly transportation. "Every module on the bike is solar-powered through the baskets," says Xie. "We want all our technology to be based in sustainability."
VeoRide currently operates more than 30 dockless micro-mobility share programs nationwide in Arkansas, Illinois, Indiana, Iowa, Kansas, Massachusetts, New Hampshire and Texas, and continues expand in additional markets each month. 
"We look forward to connecting with communities and even offering customizable bike fleets to our partners," Xie says. "There is a lot of opportunity for growth."