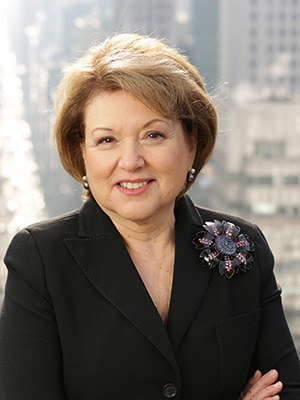 Marge Magner — one of the most powerful women in business and among the Krannert School's most celebrated graduates — almost left school on her first day of classes. 
Now, more than 40 years down the road, Magner (MSIA '74, HDR '04) says her decision to stay at Krannert and endure its academic rigors was the best choice of her career. 
"Coming to Krannert to earn my master's degree was the greatest change moment in my life and career," Magner says. "This is where I learned to think analytically and make data-driven decisions."
Magner points to Krannert's grueling curriculum and her education and experience at Purdue as a key to her ascent in the business world, particularly at a time when women had a harder time rising through ranks.
"I believe strongly in public education, including my time at Krannert," she says. "The strength of this country has a lot to do with accessible high-quality education, and it has served me well in my career."
And what a career it has been. As former chair and CEO of the Global Consumer Group at Citigroup, Magner was named to the Fortune magazine list of Most Powerful Women in Business from 2001 to 2004, the Forbes magazine list of the World's Most Powerful Women (#19), and U.S. Banker's list of the Most Powerful Women in Banking (#1). 
In 2006, Magner became a founding member of Brysam Global Partners, a specialized private equity firm that invests in financial services with a focus on consumer opportunities in the U.S. and other emerging markets. In 2014, she won the NYSE Governance Services Inaugural Leadership Award for a Non-Executive Chairman.
Today, Magner's mission is to see that women have the opportunities and capabilities to achieve at the highest level of their aspirations in both their professional and personal lives. Giving back to Krannert is one way she is accomplishing it.
Indeed, Magner takes every opportunity to mentor students and encourage their education and career plans. To ensure that women will have a seat at the table in corporate leadership positions now and in the future, she has funded an endowment focusing on women's success in business, gender diversity, and inclusion for underrepresented populations.
Magner has authorized a portion of the revenue and future earnings accumulated from her endowment to support the research efforts of Krannert's Institute for Social Empowerment through Entrepreneurship and Knowledge (iSeek), an initiative aimed at teaching entrepreneurship skills to girls and young women, helping lift them out of poverty
Her gift also helped fund the Magner Chair now held by Victoria Prowse, an award-winning economics professor who joined the Krannert faculty in fall 2016.
For Magner, who received both the Krannert Business Leadership Award and the President's Council Distinguished Pinnacle Award in 2015, the mission continues.
"I believe it is important for people who have enjoyed success and achievement to give back and think about who's coming next," she says. "How do we help them move forward? This has been a cornerstone of my life and my career."