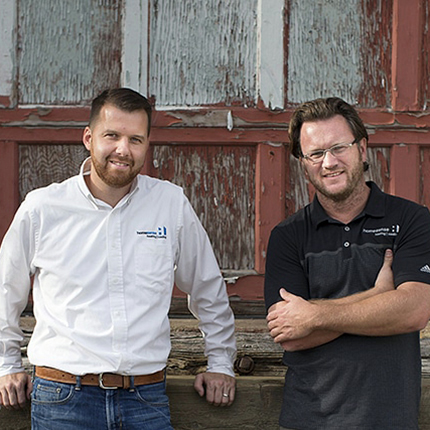 Refinery 46, a co-working and incubator space in Indianapolis targeting the home services and construction industries, marked its official opening in 2018 with a ribbon-cutting ceremony attended by the city's mayor. Co-founders and Krannert School alumni Brian Schutt (BSM '03) and Jesse Cross (BSM '02), however, have been working toward the concept for many years.
Schutt and Cross, who knew each other casually during their time at Purdue, forged a post-graduation friendship as members of the same church.
Cross, who studied finance at Krannert, started his career with an auditing firm before entering the real estate market by buying rental properties and renovating homes. Meanwhile, Schutt — who was recently named a member of the Indianapolis Business Journal's "40 Under 40" Class of 2019 — worked in sales and marketing.
Their relationship blossomed into a partnership in 2009 when they opened Homesense Heating and Cooling, a successful HVAC company that is now housed in their current venture. In fact, the idea for Refinery 46 came from their own experience of changing the location of their company five times during its first six years in business.
"We're the best testimonial for Refinery 46 and our own anchor tenant," Schutt says. "Plumbers, electricians and other contractors may do their jobs exceptionally well, but that doesn't always extend to the business side. What we really want to do is empower our tenants with knowledge and give them a launchpad to grow their business, share best practices and have an impact on the community."
The 30,000-square-foot co-working space is located in a renovated Double 8 grocery headquarters and warehouse near 46th Street and Keystone Avenue. It features offices, lockers, shipping and receiving docks, training space and an in-building microbrewery and Cuban kitchen. Members also get access to training sessions from attorneys, accountants and marketing specialists.
Tenants can move into Refinery 46 starting at $150 a month, which includes all common area usage and amenities, private offices between $500 and $750 per month, or an executive level floor with spaces starting at $1,250 a month. In addition to Homesense, its current tenants include Heritage Builders, Christina's Complete Clean and Sync Technology, which puts it at about 70 percent occupancy.
Schutt and Cross are now focusing on filling the rest of Refinery 46 with high-potential, values-driven small businesses.
"The popularity of co-working spaces on the East and West Coasts has swept across the country to the Midwest, so it's a growing trend," Cross says. "We see it not only as a practical solution from a cost perspective but also as a knowledge-sharing platform. I think our industry gets forgotten because we're not as sexy and cool as others, but it's a niche that's not being leveraged in most urban areas and has a lot of room for growth."