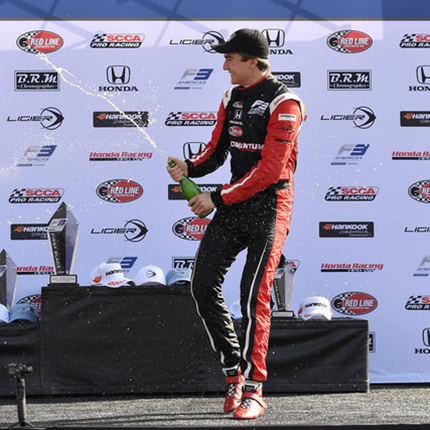 Kent Vaccaro likes to get off to a fast start.
As a sophomore in the Larsen Leaders Academy, he's had opportunities unavailable to other students. As a professional race car driver, he's won numerous championships and is on track to one day join the IndyCar circuit.
Vaccaro began his racing career growing up in Vermont, winning four national titles in the World Karting Association Junior Enduro Karts division. He made the transition from karts to cars in 2017 with Momentum Motorsports, entering the F4 United States Championship, an 18-race series that included the final round at the Circuit of the Americas in front of the teams, drivers and spectators of the Formula One World Championship.
His breakout F4 season came in 2018, when he captured numerous poles and fastest laps on the way to placing 10th in the 47-car championship. He also competed in the FIA Formula 3 Americas Championship and the SCCA Pro Trans Am TA2 Championship in 2019, followed by the Road to Indy USF2000 Championship during the 2020-21 season.
"My ultimate goal is to race Indy cars," Vaccaro says. "If you think of it as baseball, I'm kind of in the minor leagues right now. To get to Indy car is a full time, 100 percent commitment. It's something that I'm looking forward to doing in the future, but as a college student, I can't give my full attention to both."
Vaccaro says he chose Purdue over other universities for several reasons. "Getting out of Vermont and going someplace where there's a lot of people and a lot of industry was definitely huge for me," he says. "Purdue was a better fit and it was close to Indianapolis, which is obviously a hotbed of racing."
Another draw was the school's offering in a management program that combines his interests in STEM and business, which Vaccaro says is unique to Krannert. "When you're racing, making a car faster is about physics," he says. "What can we do to move the aero balance or make the tires work better on the track? How's the chassis moving and being manipulated when you're in a corner?
"I've always had a love for math and science, but as I got older and started high school, I realized I was also a people person and didn't want a career where I'd be working alone a lot. My major is a great way for me to connect my passions."
Vaccaro's favorite course so far has been MGMT 110, Introduction to Management and Information Strategies, a guided experience through the Lilly Case Competition. The Eli Lilly-sponsored and judged competition is open to LLA students only. "My team made it to the finals and I fell in love with case competitions," he says. "Any lingering doubts that business was the best field for me were gone."
Like racing, Vaccaro says case competitions are all about strategy and analytics. "I love being given a huge data set, having a team to bounce ideas off each other, and coming up with a long-term solution to a problem," he says.
Another benefit of being a Larsen Leaders Academy student is the program's dedicated staff and its pipeline to successful Krannert alumni. "I introduced myself during the freshmen initiation and everyone was incredibly open, respectful and interested in what I had to bring to the table," he says. "They helped me network, meet people, and connect to the campus community."
Those interactions led Vaccaro to his first internship as a social media marketing specialist at Purdue's Ray Ewry Sports Engineering Center, which in turn provided the springboard to a second internship in business development with Dallara USA in Speedway, Indiana.
"They are the sole supplier of the IndyCar chassis and have a state-of-the-art racing simulator that can imitate any real-life scenario or situation, giving the drivers and the engineers precious data they can't get anywhere else," he says. "It's exactly what I love and an incredible company to work for, especially with my dual interests in engineering and business.
"It's also a perfect way to blend my studies in management into something more tangible. To understand the simulator not only from a business side, but also from a physics, engineering and coding side definitely gives me a leg up."
In addition to continuing his internship, Vaccaro is looking forward to continued opportunities with the Larsen Leaders Academy. "I know I'm in the right place," Vaccaro says. "It's been a special experience — everything I could imagine and more."