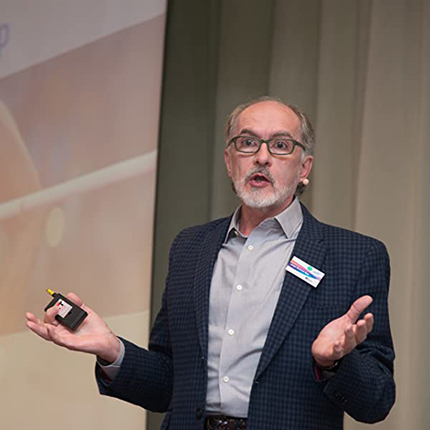 Seeking a career change, Jorge Romero-Day MS AgEcon '85, MSIA '90) came to Purdue to earn MS degrees in agricultural economics and later industrial management.
His time at the University brought Romero-Day what he was looking for and more.
"My favorite memories of Purdue are of the camaraderie with my fellow students, and the cultural and sports life," he says. "I also carry several funny anecdotes and learnings with my professors. One that comes to mind is of Bill Lewellen after my 'so-I-believed' erudite answer to his question. He stared at me silently for a few seconds and then said, 'Mr. Romero-Day, sometimes I feel that you and I are not in the same place at the same time...'"
In fact, however, Romero-Day's career has taken him to many places and times.
His some 35 years of corporate experience — including the last 25 in executive positions — spans roles in industries as diverse as pharmaceuticals, chemicals, food sciences, and minerals, among others. He speaks English, Portuguese, and Spanish has a working knowledge of German. His career has taken him to live in the United States, Argentina, Brazil, Mexico, England and The Netherlands, as well as travel across the globe.
He credits his success in part to Purdue and the Krannert School.
"It gave me a great lift," he says. "I needed a change in my career, and Purdue provided with the recognition, the network, and the conceptual knowledge to hit the road running. In fact, my first quantum leap into executive positions originated from my Purdue network. Also, the economics, marketing, quantitative and analytical skills learned through both my degrees have proven extremely useful in bringing solutions to the challenges I have faced."
Romero-Day left corporate life in 2018 to become an independent consultant.
"My objective was to dedicate my capabilities and experience to more diverse projects where I could contribute across companies, positions and geographies, and the network it generated," he says. "I also wanted to use this phase to contribute in new areas, such as charity work. Consulting was a natural sequence to my career."
Romero-Day also offers his advice and expertise to students.
"We are quickly flowing into a new world. Everything will be changing given today's digital revolutions and the new business models they will catapult. However, relationship skills will continue to play an important role, whether it is for your external or internal customer," he says. "Whether you are in a finance, marketing, data management or production, you will independently need to learn and adapt your social and emotional intelligence skills to these new times.
"On the other hand, if I were a student again, I would be careful to define what I want in 30 years. What do all these changes mean for professions and industries? Be sure to choose a path that is first going to give you personal satisfaction, as well as an industry that is here for the long haul.
"Lastly, be aware that you will need to keep reinventing yourself — probably several times over. Hence, remain a student all your life."