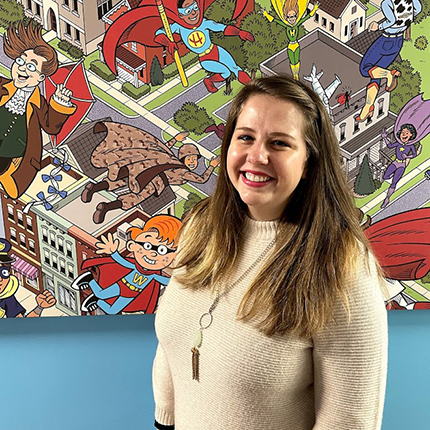 Culture is important to alumna Shavon Brown, from choosing a college to building a career.
"I grew up in Warsaw, Indiana, and one of my older siblings went to Purdue, so that was definitely an influence," she says. "We were all Purdue fans, and the scholarship package that I got was awesome. Krannert in particular seemed like a good fit because I didn't really know what I wanted to do right away, but I knew that I would get a well-rounded degree."
Culture also played a part in her decision to study abroad for a summer in Spain. "It was a great experience and introduced me to people I would have never had known," she says. "I would recommend it to anyone and everyone."
After earning her bachelor's degree in marketing in 2015, Brown went to work for Alliance Data Card Services, where she had also completed an internship secured through the School of Management Employers Forum (SMEF) career fair. "I didn't really know about market research until my internship and first job," she says. "Fortunately, the critical thinking and networking skills I developed at Krannert helped me learn on the job quickly."
She spent three years at the credit card company before taking a job as market research manager for Highlights for Children in Columbus, Ohio. "The corporate culture at Alliance was changing along with the organizational structure," Brown says. "Highlights was a great fit at that point in my career."
Like a parent with young children, Brown has a lot to juggle in her small department.
Since its founding in 1946, the Highlights for Children brand has grown to a diverse and inclusive family of products for kids from birth to 12. Its portfolio now includes "Hello" for ages 0-2, "High Five" and "High Five Bilingüe" for ages 2-6, and the original "Highlights" for ages 6-12. Its tradition of wholesome fun extends to games, websites, mobile apps and book clubs.
Highlights not only reaches across multiple platforms, it also spans the globe with products available in 40 countries and in 16 languages. In addition to its popular Hidden Pictures activities, there are dozens of books and products focusing on science and discovery, arts and crafts, classroom resources for teachers, puzzles, jokes and riddles, and family games.
"In particular, I'm doing brand health tracking — keeping tabs on the general awareness of Highlights and how we're performing against our competitors," Brown says. "I've also been doing a lot of research on how the learning landscape is changing and how people are shopping for our products."
When the COVID pandemic took hold in 2020, for example, the company debuted Highlights@Home, a free email subscription that provides parents and kids with fun and memorable activities to enjoy while sequestered at home.
Brown also contributed to Highlights' 2020 launch of its 15 Minutes to School Success package with unique subscription boxes available for pre-k, kindergarten, and first grade. Developed with teachers and aligned to school standards, activities in each box are designed to use in 15-minute bursts — blending grade-specific skills practice with fun activities to ease the learning process and make it enjoyable for kids and parents alike.
Today, Highlights is the perfect culture for Brown to continue her success. "They've been very supportive through the pandemic, and it's been a fantastic company to work for," she says.