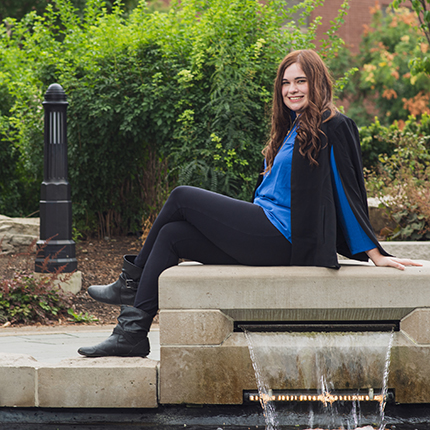 Making a difference has always been a priority for Daniels School master's alumna Rachel Svetanoff (MBA' 18), who also earned a BS in chemistry at Purdue before picking up a master's in global health from Notre Dame.
At Purdue, she worked as a graduate assistant with the Brock-Wilson Center for Women in Business and as a leader of Student Pugwash USA, which promotes social responsibility in science and through an international network of students, professionals, academics, and activists.
Today, Svetanoff is a social entrepreneur and activist who has contributed to over 100 projects with organizations across 35 countries to help achieve the UN Sustainable Development Goals. In her entrepreneurial pursuits, she co-founded the youth organization Global Futurist Initiative, founded the Project Energy for Life Cameroon consortium, and is a founder of her own consulting practice. Receiving numerous appointments and 31 awards, Svetanoff is a Purdue distinguished alumni as recognized by the Rising Professionals program, a Tippy Connect Young Professionals Top 10 Under 40 honoree, and a Purdue Student Life Young Alumni Award recipient.
The through-line that is developing is Svetanoff's dedication to championing the Sustainable Development Goals through operationalizing causes that support youth.
"While my work can be applied to a few different themes such as global health, human rights, or environmental sustainability, throughout my career, I have found that youth are the cornerstone of transformational change," Svetanoff says. "Without supporting young people in advancing principled engagement with the world, we cannot move towards creating an equitable, healthy, and sustainable world for all."
One of her most notable efforts is her work with UNICEF USA where she helped in align efforts between the organization and philanthropic foundations to achieve global public health, climate action, and innovation impact for safeguarding youth and children's rights worldwide.
"Being part of UNICEF USA informed my work in so many ways," Svetanoff says. "From taking deep dives into pressing global issues to gaining insights about best practices with engaging partners and stakeholders, there has been no shortage of learning across all aspects of resource mobilization for humanitarian and development aid."
Svetanoff has also been on the corporate side of social impact. Svetanoff worked at Johnson & Johnson where she helped nonprofits raise funds to improve health outcomes and where she met her UNICEF USA colleagues as well as her colleagues at Project Energy for Life Cameroon Consortium, Global Futurist Initiative, and the nonprofit J.B. Dondolo that she is a strategic advisor for. As programs lead of Johnson & Johnson's fundraising platform CaringCrowd, she had the opportunity to engage with civil society leaders and executives directly in meeting their development needs. This also was the beginning of her advocacy for measuring efforts by the Sustainable Development Goals framework as she developed the first public benchmark of CaringCrowd's progress towards helping to meet the Goals.
"CaringCrowd gave me the jump start on my Sustainable Development Goals advocacy trajectory, but it was Purdue's business school that helped me get to CaringCrowd in the first place," Svetanoff says. "Without pursuing my MBA, I would not have had my internship at Johnson & Johnson which led to my full-time role and what ultimately led me to where I am today. I am ever grateful, always."