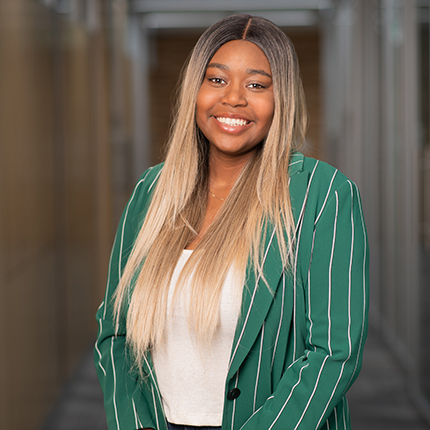 Alexis Gomis (BS Economics '21) started building her professional network before her freshman year through the Dr. Cornell A. Bell Business Opportunity Program (BOP), which begins with an eight-week summer session to jumpstart students' studies in the Krannert School.
"BOP improved my networking skills tenfold," Gomis says. "It really forced me to get out of my comfort zone and talk to people about my career goals in ways that I usually wouldn't." BOP also provides a number of support services, including professional development and scholarships for tuition, room and board, and study abroad.
Gomis gives equal credit to her participation in student organizations like the Society of Minority Managers, School of Management Council and Women in Business.
"Getting involved in a variety of clubs on campus has definitely given me opportunities that other students wouldn't normally have," she says. "It's allowed me to join multiple networks and gain exclusive opportunities to face time with companies that I wouldn't necessarily get to know and talk to."
In fact, Gomis landed her first of two internships with PricewaterhouseCoopers (PwC) through the BOP career fair, which is smaller and more intimate than campus-wide job fairs. The first was as a start advisory intern through a PwC initiative that gives minority students exposure to the management consulting industry.
"After completing the first internship, I realized that management consulting is definitely what I want to do," Gomis says. She returned to PwC as an advance advisory intern the summer before her senior year and will begin her full-time career as a management consultant with the firm upon graduation.
Gomis' clients at PwC will be in the healthcare industry, a focus that she fostered through a healthcare economics course at Krannert. "I realized there are a lot of problems and challenges within the healthcare industry that need addressing and I wanted to be a part of the solution," she says.
Gomis, who works as a student employee in the Purdue University Research Center in Economics, is also eager to apply her unique perspective as an economics program graduate to her role as a management consultant.
"I would describe economics as the study of the choices people make when they're faced with scarcity, whether that be individual decisions or business decisions," she says. "In this world of limited resources, it's important to study choices people make and how our government leaders create policy and legislation to reflect those decisions."
As for decisions on which college to choose, Gomis recommends Purdue, not only for its return on investment, but also for its limitless opportunities for growth.
"I would advise high school students debating if they want to come to Krannert to think about where they want to be in the next five years," she says. "Where do you see the trajectory of your life going? Can Krannert help you get there? For many students, I really think it can. I wouldn't give up all the skills that I've learned here for the world."