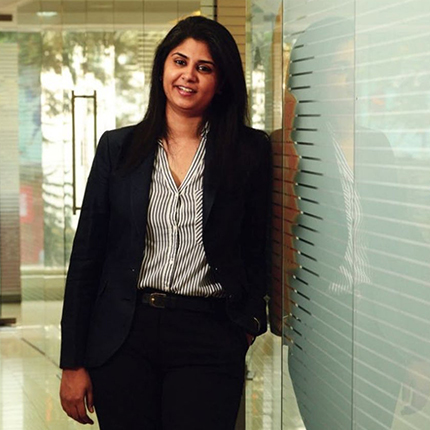 Anjana Reddy (BS '09) had two choices when she graduated from Krannert with a degree in accounting — step into her family's business, or try to make it on her own. She went with the latter, forming Universal Sportsbiz Pvt Ltd (USPL) in 2012.
She began USPL with Collectabillia, a celebrity commerce platform in India that offered memorabilia autographed by sports stars, while working on her master's degree at the University of Illinois at Urbana-Champaign.
Today, after a few missteps, it's clear she took the right path — she was named among Forbes' "30 Under 30 Asia" in April 2017 and made her debut as one of the "50 Most Powerful Women in Business" by Fortune India in September 2019.
Although Reddy says she is surprised by her success, it's not uncommon from an entrepreneurial perspective. Like many first-generation startups, Collectabillia simply failed to take off. As she told Fortune India, "It soon became evident that the memorabilia business was not going to be easy to scale despite celebrities backing it. There was hardly anyone willing to pay for memorabilia."
Undeterred, Reddy used the experience to reposition and expand USPL, which today features a growing line of trendy casual-wear brands like Wrogn, Imara, Ms. Taken and Single endorsed by Indian celebrities ranging from cricket star Virat Kohli to Bollywood film stars Kriti Sanon and Aditya Roy Kapur.
Another key strategy for USPL's success was to sell its apparel not only on e-commerce platforms, but also in brick-and-mortar retail stores catering to millennials in India's growing middle class.
She says Krannert played an equally foundational role. "The classes you take give a whole variety, unlike focusing just on accounting or finance, and the electives give you a well-rounded perspective. The education I got from Krannert has helped me always look at the bigger picture, which has helped scale the business successfully."
Those abilities also helped her power through some of the obstacles she faced in starting her own business. Finding a good team is always a challenge, and so is keeping that team running. So she arranged her company accordingly.
"We have a flat organization where the heads of departments are given ownership of their respective fields, which helps keep them motivated," she says.
And, for a person who works 18-hour days, she credits her family for instilling in her the principles she needs to keep herself balanced.
"Growing up, a lot of dinner table conversations revolved around work," she says, "but dad never brought his stress back home, so I think that's one big thing I learned. It's been something really small but it makes a difference."
Part of that difference is the ability to take the risks necessary to see an idea through. When she began USPL, there were no other youth-driven brands in her market. When she thinks of Krannert students and alumni, she hopes they'll take the leap like she did.
"There's no better time than now," she says. "Entrepreneurship is something everyone should do if they're inclined toward it."