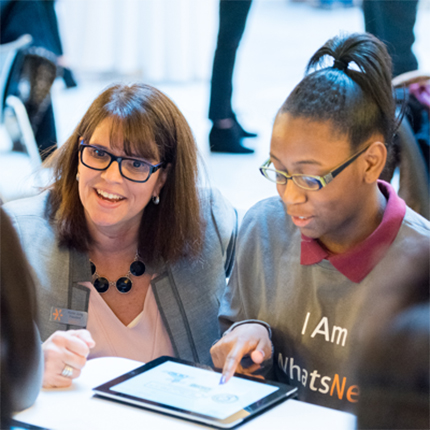 As a proud alumna of Purdue's business school, Karen Jung believes in the transformational power of computer science education to prepare students for success in the classroom, careers and beyond.
She follows that passion as president of Nextech, a nonprofit organization in Indianapolis with a mission to create equitable access to computer science curriculum and experiences for all K-12 Indiana students.
Jung's diverse background, business acumen and philanthropic commitments make her an ideal leader for Nextech. As president, she connects the dots — and people — to fulfill Nextech's vision to unleash each student's potential to thrive in the digital economy
Jung developed a successful career as a product expert for several leading technology companies, most recently ExactTarget. She held management roles in product and marketing management before transitioning to corporate philanthropy.
As executive director of the ExactTarget Foundation, Jung developed innovative new programs that engaged people, technology and resources to address childhood hunger, education and entrepreneurship. She also spent 15 months working in Haiti for the Visitation Hospital Foundation.
When Nextech launched in 2014, only 18 percent of Indiana schools offered computer science classes. Today, it is part of the curriculum of some 60 percent of Indiana schools. "It's been an amazing transformation, but there's still a long way to go," Jung says.
"There are nine different policies that measure where a state is relative to computer science. Indiana has adopted all nine of those," she says. "In 2016, we were one of the first states to have standards across all K-12 grade levels, and in 2019 we became the first state at the time to actually offer standardized testing for computer science at grades four-to-six level. Indiana truly is leading the conversation now."
Nextech has been at the center of Indiana's meteoric rise in CS leadership, having offered professional development programs to prepare K-12 educators to teach computer science — regardless of his/her background.
"By training teachers, as opposed to working directly in the classroom with students, Nextech can scale our impact at a much faster rate than we would otherwise," she says. "I think back on that first year. In the 2015-16 school year, we trained 21 teachers from 11 different schools. Through the 2019-20 academic year, we've delivered nearly 40,000 hours of professional development for 2,151 educators from 808 schools across Indiana."
Nextech's work extends beyond training teachers. Under Jung's leadership, the organization is committed to providing immersive experiences that helps students aspiring for a career in technology to develop technical and workplace skills, authentic peer relationships, a passion for community service and deep roots for a lifelong personal and professional connection to Indiana.
"We are continually challenging ourselves to deliver bold initiatives that disrupt the education landscape through forward-thinking teaching styles and innovative methods for students to learn — all anchored around computer science," Jung says. "CS gives students opportunities to be creators — not just consumers — in the digital economy, and to be active citizens in our technology-driven world. It is imperative that Nextech relentlessly innovates so that can continue to deliver unmatched impact."