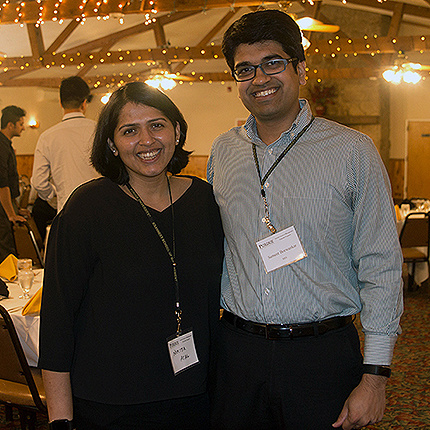 As an international student, Sameer Borwankar is passionate about preparing other Krannert international students for the workplace. When his career path launched into a new chapter at Cummins Inc., Borwankar never expected to be back at Purdue – let alone as a PhD student.
Borwankar holds a bachelor's degree in mechanical engineering from Savitribai Phule Pune University in India and completed his MBA at Krannert in 2012. Interacting with other international students was what sold him on Purdue's prestigious reputation and made Krannert master's programs office feel like home.
"I had an excellent time at Krannert School of Management during my MBA days," he says. "I got to interact with a very diverse body of students — not only from different countries but from different personal and professional backgrounds. It was even more special because I ended up meeting my future wife, Nikita [Atal], on campus," Borwankar says.
Atal, a dual-Boilermaker who earned a MS in computer and information technology at Purdue in 2012, worked at Cummins before returning to the West Lafayette campus to earn an MBA in 2017. She currently serves as a strategic sourcing associate at A.T. Kearney.
While still an MBA student, Borwankar followed his future wife's lead and got an interview with the recruiting team at Cummins. He became part of the rotational development program, which gave him exposure to four different business units along with a career that allowed him to flourish in the technology field. In his last role at Cummins, he led the digital workspace implementation team for corporate IT, as well as a global project to introduce a digital platform to be used by 60,000 employees.
Borwankar also fulfilled his passion for mentoring international students through the Cummins Krannert recruiting team program.
"Cummins' culture and values really reflect the importance of diversity in everyday interactions. Once I started working there, I wanted to help the students of Krannert, and the Krannert School Alumni Association (KSAA) gave me that opportunity," he says.
The KSAA is a voluntary organization managed and coordinated by Krannert alumni relations office. Many of the members serve on advisory boards of various student clubs, while other members help with in-class participation to provide industry experience and perspectives.
"I have been active in helping students with resume critiques and interview preparation. Along with other members of the alumni relations office, I also participated in streamlining the mentorship program at Krannert."
Borwankar enjoyed his work at Cummins but soon found himself back on Purdue's campus as a PhD student. Borwankar plans to continue mentoring students while also working toward his PhD to gain more knowledge of digital systems.
"My interactions with the Krannert faculty and Professor Karthik Kannan convinced me that getting a PhD in management information systems would allow me to contribute more on the impact of technology and further my career while also serving my passion for helping international students prepare for the work place."