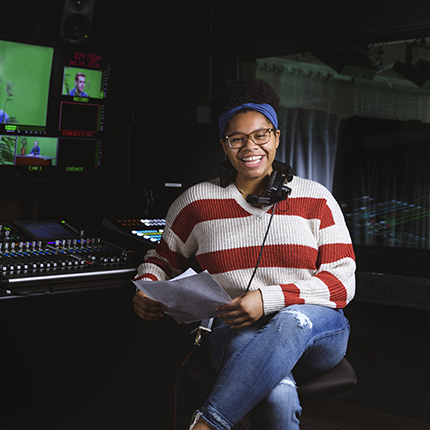 Kristen Day knew as a student at Lawrence North High School in Indianapolis that she wanted to study marketing in college, but all she knew about Purdue was that it was in Indiana.
"I wanted to stay in state, so I scheduled a visit and fell in love as soon as I stepped on campus," she says. "It was springtime, people were outside, and hearing all the different languages and just seeing students being students was so exciting for me."
Scholarships from Purdue's Emerging Leaders program and the business school's Dr. Cornell A. Bell Business Opportunity Program (BOP) sealed the deal, and Day joined 23 other BOP students for the 2017 summer session before starting their freshman year.
"For me, BOP has been key. It unlocked a network of support and a legacy of minority success. Over more than 50 years, we've created a culture of generosity, in both wisdom and opportunity. Now I ask, how can I impact future generations? Ultimately, BOP encourages me to demand more from my future and remain grateful for my past."
Day has taken important steps toward that future with a diverse range of extracurricular activities and her involvement in numerous student organizations. In addition to BOP, she is a member of the Larsen Leaders Academy, serves as a Business Ambassador and participates in Ad Liberation, a campus comedy group that specializes in long-form improvisation.
"I'm a creative who loves to create," she says. "From video to photography, to social media and even stand-up comedy, I do it all."
Day, who aspires to work in the communications or entertainment industry, is also putting her marketing major to work by developing her personal brand through a website. It includes a blog, photo portfolio, and links to her Twitter, Instagram, LinkedIn and YouTube accounts.
Although Day initially planned to minor in Spanish, an advertising class that was part her plan of study for marketing inspired her to instead minor in communication. After a second class in television production, Day was hooked, and she was in the studio again this semester to work as a student director.
She's also taken two theater classes and plans to earn an acting certificate through her involvement in an upcoming student production. "I've always wanted to take an acting class," Day says. "I'm a big ham. I love being on camera, on screen, on stage. And so I knew that was something I wanted to do before I graduated."
Day says her diverse set of skills and background in improvisation, acting and communication put her at ease in almost every speaking situation, whether it's asking question in a lecture class of 300 people or making a presentation in class with only 15 people.
"I'm almost always the loudest in the room. Whatever the project, I like bringing attention to it," she says. "I also love to strategize. When I work on teams, I like to provide structure, involve mentors, and seek wisdom."
Ultimately, it's Day's goal to "break the mold" for how business students see themselves. "There are so many facets to life at Purdue, and plenty of opportunities at the business school to set yourself apart," she says. "You'll come out with such an amazing set of skills, as well as friends that you probably wouldn't have had otherwise."