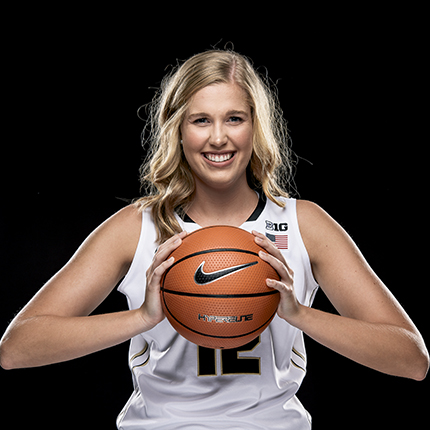 At a height of 6 feet 6 inches, Nora Kiesler easily stands out in a crowd. As she told her fellow graduates while delivering the student response at Purdue's 2018 summer commencement, "No, the podium is not that small, I really am that tall."
Kiesler, who was captain of the 2018-19 Purdue women's basketball team, also was a standout academically. She completed her bachelor's degree in management and marketing in only three years and was Academic All-Big Ten in 2017 and 2018, and was also recognized as a Big Ten Distinguished Scholar in 2018.
Although she had another year of NCAA eligibility remaining and was listed on the roster as a senior, Kiesler missed her final season due to injury. Meanwhile, she earned a degree from Krannert's full-time MBA program.
"Academics were my first priority when coming to college," she says. "I knew Krannert offered the academic rigor I was looking for and an alumni network that would set me up for success for the rest of my life."
As a freshman, she was invited to join the school's 3+2 program, which allows student to earn both a BS and a MBA in five years.
"I thought at the time that it would be too difficult to balance school and basketball, so I added another major to try to extend my undergraduate career," she says. "When I realized later that I would still be graduating early even with a double major, I looked at all of the Krannert master's programs and decided that earning a MBA would be best for me in the long-term."
Kiesler, who has combined her passion for athletics with her business degrees as marketing coordinator at Spurs Sports & Entertainment, says an optimistic outlook on life helped her manage the demands of both realms of her Purdue experience.
"Being able to look on the bright side of things and find the positive in any situation has been fundamental to who I am and how I've gotten this far," she says. "I've always prided myself on not just being a basketball player, but also a good student, daughter, sister, friend and teammate."
As Kiesler noted in her commencement address, however, nothing comes without its challenges.
"At the end of the 2018 spring semester, one of my professors told us, 'graduating from college feels a lot like being forced to jump out of a plane with no parachute. Jump anyway, and just make sure you have a soft place to land.' As graduation drew closer, I realized how right he was," she said.
With two degrees from Krannert, Kiesler feels well prepared to take that giant leap.
"While you go through the ups and downs of life, it may at times seem like you'll never find your perfect landing spot," she told her classmates. "Just remember, at this university, there are people, places and traditions that feel like home. Purdue will always be there as our soft place to land. We've made it through the waiting, the learning and the preparing. Now it's time to jump."