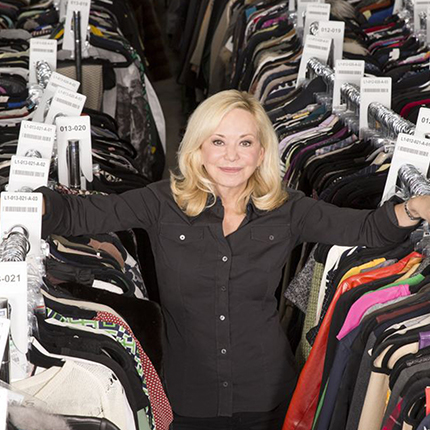 "Fail forward" is a common mantra in Silicon Valley, where the lessons learned from stalled startups often lead to more successful ventures for their founders and investors. 
Krannert alumna Julie Wainwright (BSIM '79), who recently received the Silicon Valley Visionary Award, knows firsthand. A technology industry veteran, e-commerce pioneer, and brand management expert whose career spans more than 25 years, she first made her leap into the C-Suite as CEO of Reel.com in 1997 and Pets.com in 1999, which featured a Super Bowl ad the next year.
Despite its initial success and wildly popular sock puppet mascot, however, Pets.com followed the path of many other startups with the burst of the dot.com bubble in 2000.
Undaunted, Wainwright remained persistent in her quest to find the next "big thing." And she's back in the spotlight as founder and CEO of The RealReal, an authenticated luxury consignment retailer that she started in her garage in 2011 and led to a $300 million initial public offering on NASDAQ in June 2019.
The successful IPO signals growing interest in the secondhand fashion market, which is expected to double from $28 billion today to $51 billion by 2023, according to a GlobalData Retail research report.
While selling items on the Web is nothing new, Wainwright has differentiated The RealReal from other players like Ebay, ThredUP and Poshmark.
"The RealReal is authenticated luxury resale," Wainwright says.  "We employ more than 100 gemologists and watch experts, brand authenticators and art curators who inspect every item before we put the item on sale.  We warehouse all items and offer the consumer a full customer service experience."
She says the company addresses the high end of the market for luxury products that range from Hermes, Chanel, Prada, Cartier and Rolex to fine art from the likes of Matisse, Picasso and Jeff Koons. Due to the previously owned nature of those items, buyers pay considerably less than original retail.
"We are a sustainable company," Wainwright says.  "Over 90 percent of our items come from individual homes. We only take items that are gently used and have a solid resale value."
Today, The RealReal is a company with millions of shoppers and consignors, three retail stores in New York City and Los Angeles and nine luxury consignment offices across the country, three of which are in their stores.
Like many companies, part of The Real Real's success is due to business analytics, she adds.
"As the largest marketplace for authenticated luxury consignment, we have an extensive set of data — which serves as the backbone of our authentication process," she says. "Among other things, it's leveraged to update algorithms that route the highest risk products to our most experienced authenticators, making sure that the riskiest products get the most scrutiny."
Wainwright grew up in South Bend, Indiana, with artist parents. She started out at Purdue in pre-pharmacy before changing to business, and was particularly inspired by classes on entrepreneurship, where she learned how small steps can lead to big opportunities.
"Those classes coupled with finance, accounting, consumer psychology and statistics provided the foundation for my success," Wainwright says. "Adding art classes gave me a creative outlet that greatly influenced me. As Andy Warhol said, 'Being good in business is the most fascinating kind of art. Making money is art and working is art and good business is the best art.'"
Today, Wainwright sees the same opportunities in abundance at her alma mater. "Krannert is being redefined and is creating an exciting entrepreneurial ecosystem," she says. "This energy and focus will lead to true innovation."
As a supporter of the Brock-Wilson Center for Women in Management, Wainwright openly shares her story of being a successful woman in a world dominated by male CEOs. While it can be daunting, she offers this advice for young women: "Don't let others define your success or your life. Recognize the obstacles are real, but don't get sidetracked by others' agendas."