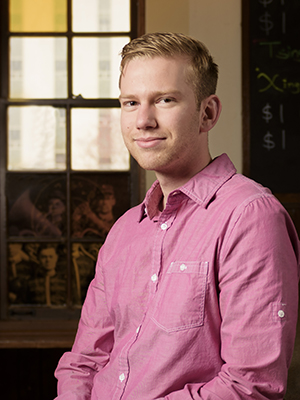 Brightlamp LLC, a computational-medicine company that produces consumer ready software for medical diagnostics, is led by a group of enterprising Boilermaker alumni from multiple disciplines, including Michael Heims, the self-described "business guy" that every startup needs to reach a profitable bottom line.
Heims, who earned dual bachelor degrees in finance and general management from the Krannert School in 2016 and serves as chief financial officer, joined the company while working full-time at Eli Lilly and Company as a financial analyst. He left Lilly in January 2018 to devote his efforts to bringing Brightlamp's technology to the market.
"I'm in charge of everything from revenue valuations to financial modeling, but my current focus is on investor relations and securing additional funding," he says. "We have soft commitments from two private capital firms in Indianapolis, which helps bolster the seed funding we received in 2016 from Purdue."
That initial investment came in the form of a First-Tier Black Award in the amount of $20,000 from the Elevate Purdue Foundry Fund. The company recently received another $50,000 in funding from Ocean Capital in Cincinnati.
When Brightlamp launched, its first product was an application that detects concussions by measuring a response called "pupillary light reflex," which uses an innovative method that requires only a mobile device with a camera and flash to measure the reaction of the pupil.
Although the patent-pending concussion app is still in development, it's already led to the creation of Brightlamp's second product, Tipsee, an alcohol analyzer that allows users to conveniently and rapidly assess their consumption without the hassle of added hardware. Using the rear-facing camera on a cell phone, the app records five seconds of video with flash and uses threshold data to calculate intoxication levels.
"The app essentially uses the same method that we developed to detect concussions, but we learned early on that there are a lot of regulatory challenges to commercializing head trauma technology," Heims says. "It's expensive and it takes a while to actually generate traction. We created Tipsee to get a product on the market that generates revenue more quickly, which is the kind of traction that investors want to see."
Brightlamp's initial market research indicates it's a product with significant potential, and will make the app available to download for Apple iOS devices in May for beta testing.
"More than a million people are caught drinking and driving each year, and the number one thing they say is they just didn't know whether or not they were okay to drive," Heims says. "They are looking for some degree of accountability and that is essentially what we are trying to provide with this application."