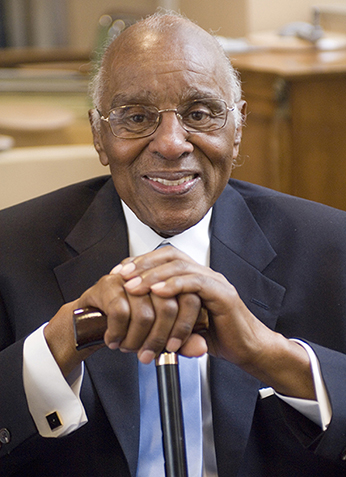 Beginning as a teacher and counselor, then as an assistant principal and principal, and finally as a college professor and director of the Business Opportunity Program (BOP) at Purdue's business school, Dr. Cornell A. Bell made a life's work of helping students reach their full potential in both the business world and in their personal lives.
Following the assassination of Dr. Martin Luther King Jr. in 1968, a group of faculty members concerned about diversity at the school approached then-dean John S. Day about initiating a program to provide support to minority students. After enrolling 11 students in its first year, it became evident that the program needed a director who could recruit and mentor students.
Bell, who was recognized in the Gary, Indiana, area as an outstanding educator and administrator, was tapped by Day as the right person for the directorship. But first, Day had to convince Bell that his Indiana University doctoral program credits would transfer to Purdue. Fortunately, they did.
Bell went on to earn his PhD in educational administration from Purdue in 1972 while directing BOP and other diversity programs at the business school for 37 years, ensuring that minority business students would continue to enrich the school's environment for decades to come. He also worked toward increasing diversity at business schools nationwide through his involvement with the Graduate Management Admission Council.
"Cornell developed a reputation that attracted the finest students to the school's undergraduate and master's programs," said Day in a 2001 interview. He grew BOP into one of the most successful programs of its kind at any business school in the country."
Bell's efforts have been widely recognized. He received Purdue's Special Boilermaker Award in 1987, the M. Beverley Stone Non-Academic Counseling Award in 1990, the Indiana Bell Award in 1991, and the Harold T. Amrine Visionary Award in 1994. Former Indiana Governor Evan Bayh named Bell a Sagamore of the Wabash in 1996. That same year, BOP was renamed the Cornell A. Bell Business Opportunity Program in his honor. In 2007, Purdue awarded Bell an honorary doctorate of management for his contributions to higher education and society.
When he retired in 2006, faculty, staff, students and alumni honored Bell with a reception in the Krannert Drawing Room, where a display case now memorializes the diversity leader's life. Upon Bell's passing in 2009, the Purdue community gathered once again to remember the man who had become a mentor and father-figure to many of the school's most successful graduates.
Professor emeritus Dan Schendel — one of the business school faculty members who was instrumental in establishing BOP — reflected on the program's early years and Bell's arrival at Purdue.
"We needed leadership from someone who understood what it took to be successful in college and recognized the barriers and challenges facing the young men and women we were trying so hard to bring here," said Schendel. "That someone was Cornell Bell. He always felt there were no bounds to what students could accomplish through education."
BOP alumnus Randall Lewis (BSM '84, MSM '89) echoed those sentiments.
"I feel blessed to be a graduate of the Business Opportunity Program and Purdue," said Lewis. "The benefits I've gained and the lessons I've learned will benefit my family for generations to come. My personal commitment is to continually support Dr. Bell's legacy because of the difference it has made in my life and lives of hundreds of others."