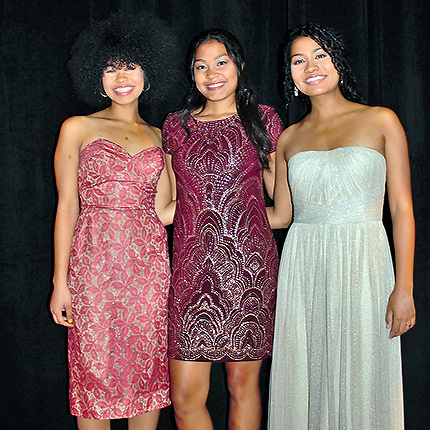 Purdue University may not have a medical school, but it does have the Dr. Cornell A. Bell Business Opportunity Program (BOP), which currently boasts a trio of sisters who want to pursue careers in healthcare or medicine.
Victoria Coats (BSIM '22), Isabella Coats (BSIM '21), and Elizabeth Coats (BSM '20), are following in the steps of their father. Charles Coats came to Purdue through the BOP program before earning a BS and MS from the College of Science, an MBA from Case Western Reserve University and his MD at Wayne State University.
Dr. Coats is now the owner of Anthony Medical Associates in Fort Wayne, IN, where his daughters first gained experience in the healthcare field working as office assistants and medical receptionists throughout high school. The eldest, Elizabeth, who also served as a marketing consultant for her father's practice, plans to attend dental school, while Isabella and Victoria aspire to continue their education at medical school.
The Coats sisters also are building on the legacy of BOP's first female graduate, Sonia Winslett (BSIM, MSM '76), who began her career as a CPA and auditor before following her true calling to become a physician. Following a distinguished career with the Mayo Clinic, Dr. Winslett now works as a "locums tenens" or traveling doctor, providing aid for post-disaster victims.
As the Coats sisters learned from their father, participating in BOP comes with lifetime benefits that can help graduates of the program pursue careers they may have never imagined before. Celebrating its 50th anniversary in 2018, BOP was one of the first student-success programs to promote inclusion within a major business school and the first diversity program at Purdue. It now has more than 1,400 alumni worldwide.
"BOP is truly my family away from home," says Elizabeth. "The friendships I've formed with my peers will last a lifetime, and seeing the success of the program's alumni makes anything seem possible. My management degree will be the foundation, but BOP teaches you about so much more than just business."
"Everyone associated with BOP goes out of their way to make sure that you succeed," adds Isabella. "It's so encouraging to know that you'll always have people who you can count on for support and guidance."
Although she's just completed her freshman year, Victoria is quickly learning the same lessons.
"I've wanted to be a doctor like my dad since I was young," she says. "Even though working at his practice helped me discover the impact I could have on the lives of others, I never really knew how to get there until I became part of BOP. I can now see what steps I need to take to become the person I want to be. The experience has been priceless, and I'll always be grateful for it."