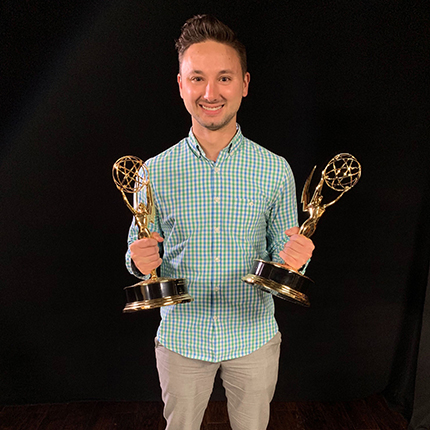 It's probably unrealistic to expect seven promotions only five years out of college, not to mention an Emmy Award and a news story in Forbes. Don't tell that to Nick Rago (BSM '14), who spoke at the the business school's Executive Forum in 2019.
Rago began his career with ESPN as a production assistant in the social media integration department. He then joined the SportsCenter social media team in learning the ins-and-outs of a rapidly evolving industry. In 2015, he was tagged to be the new social media producer for ESPN's flagship morning show, Mike & Mike.
"I'm a firm believer that everybody has one or two big opportunities to really make a name for themselves," Rago said. "And I was fortunate enough to recognize that and take hold."
In 2016, Rago made another giant leap, becoming one of the youngest associate producers in ESPN's 37-year history. During this time, he oversaw the social media content for College GameDay and was a part of the team that won the "Outstanding Studio Show – Weekly" sports Emmy. His success caught the attention of FOX Sports, who in 2017 lured Rago away from ESPN to become a digital producer for its burgeoning NFL coverage.
Rago's first role at FOX was creating a new visual identity and data-driven strategy for its NFL social and digital accounts, leading to yet another promotion as senior digital producer overseeing @NFLonFOX, @MLBonFOX and @FOXSoccer.
His most recent promotion came in May 2019, when he was named director of social and short form media at FOX Sports. That same month, Rago's team won an Emmy for "Outstanding Trans-Media Sports Coverage" for the 2018 FIFA World Cup that highlighted its level of coverage across digital, social and television.  
"I have had an amazing start in an industry that's still growing, but I'm not special," Rago told students at the Executive Forum. "I started at Purdue in engineering and was on academic probation before I transferred to the business school. I was never the smartest person in the room."
Determined to find his niche, Rago brought his grades up and forged a relationship with ESPNU Campus Connection to get his foot in the door as a "runner" at the 2012 Super Bowl in Indianapolis. That led to an internship with ESPN prior to his senior year, and he hasn't stopped running since.
"You can accomplish unbelievable things in your first five years. You're going to have to work really hard," he said. "You're also going to have to get a little lucky, but it can totally change the trajectory of your entire career.
"Another reason your first five years are really key is because you probably don't have a family yet. You don't have as many home responsibilities. So my decision was to focus really hard on my career for the first five years as a kind of investment in my family and future. I chose to really go for it."
Rago's commitment has paid off for himself and his employer. In 2019, FOX Sports set a new record with a 24 percent increase in social media views, a third consecutive year of double-digit growth in views and minutes, 5.6 billion video views and 21 billion minutes of video consumption.
"I'm so proud to be a very small part of what this incredible team accomplished last year," he said.
And what about all those promotions? According to Rago, taking small steps toward success by finding a mentor and making connections is just as important as grit and good fortune.
"It's important to be able to identify who you think is going to be a mover and shaker in your department and get with them," he said. "Pick their brain, ask them questions and develop a relationship that lifts everyone up. To me, that's made all the difference."