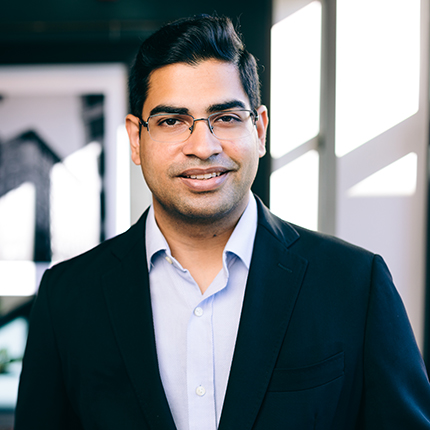 Prasad Raghu's arrival at Purdue's Krannert School of Management as a student in the MS in Global Supply Chain Management (MSGSCM) program seemed like a natural transition after working in industry for nearly nine years.
"I'm of Indian origin, but I was born and brought up in Nigeria," he says. "That's where I started my professional journey of being in operations and handling aspects of supply chain, procurement, and logistics. I came out with a lot of skills, experience and growth, but at some point, I felt like I had plateaued and began considering graduate school."
Although Raghu looked at programs in other English-speaking countries, Purdue quickly rose to the top of his list. "I was already leaning toward the U.S. because the education is better recognized globally," he says. "I chose Purdue as it's consistently ranked in the top five for my areas of interest. It's reputation and brand recognition, global alumni network, and access to cross disciplinary resources only made my decision easier.
"Added to that, my brother and several of my relatives also went to Purdue, and seeing how they have used their time here as stepping stone to industry success, I knew it would take me where I wanted to go."
Once he had decided on the Krannert School, Raghu's first option was to pursue an MBA. "But I really wanted an in-person learning experience," he says. "I ended up transferring to the MSGSCM program and it's been smooth sailing ever since."
In fact, the cross-disciplinary nature of Krannert's curriculum has helped Raghu tailor his degree with coursework not only in supply chain and operations, but also finance, marketing and other management disciplines. "I want to be able to think strategically and take all the aspects of business into consideration," he says.
Early on in the program, Raghu had the opportunity to work as a graduate researcher on a supply chain for project for The Data Mine. "Our team worked with a corporate partner in manufacturing to analyze their delivery data, reduce delays, and increase their overall efficiency," he says. "I was able to draw upon my past experience of being in business strategy and operations to help them understand what to look for within the data."
Raghu is also a graduate research assistant in the Dauch Center for the Management of Manufacturing Enterprises (DCMME), where he is analyzing the economic effects of active transportation for the Indiana Department of Transportation. "Active transportation is when individuals power themselves, such as riding a bike or running," he says. "We looked at how it is improving people's health and impacting the state's revenue."
Another highlight from Raghu's time at Krannert was participating in the Exploring Business in Peru program, a two-credit management class hosted by Krannert's Global Supply Chain Management Initiative (GSCMI) and transportation, logistics, and storage company Tlogistica of Lima, Peru.
The program targets undergraduate and master's students to provide them with the occasion to work on real-life business problems and provide solutions to businesses in Peru. The projects are implemented by the companies involved and are related to the subjects of supply chain, manufacturing and operations.
"This was an experience that I knew I wanted to be a part of as soon as I heard it was happening," Raghu says. "You not only experience the culture of the people, but also get an opportunity to explore business in that country with a focus on supply chain. It's not every day that a graduate student gets the chance to study abroad."
Another positive takeaway was a lesson in cross-cultural communication. "There was a language barrier, but in our previous module we took a course in negotiations where we had to face a cross-cultural negotiation situation," Raghu says. "The skills we developed in that course helped us navigate some of the communication issues we encountered in Peru."
Raghu will take those and other skills he's developed into a summer internship at Corteva Agriscience as a crop protection supply chain intern. "It's a big industry and something I've not worked on before, so it interested me to be a part of a unique company and business model," he says. "At least two of the recruiters were also Purdue graduates, which speaks to the great alumni network at Krannert. There are a lot of people who are willing to help if you are willing to ask for it."