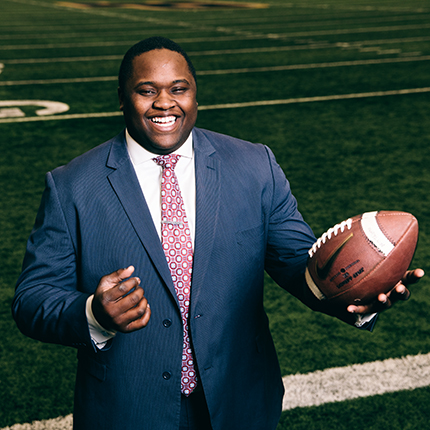 A football scholarship and the Dr. Cornell A. Bell Business Opportunity Program (BOP) brought Michael Rouse to Purdue's Krannert School in 2011. He returned to his alma mater to earn an MBA and used his sporting background to excel in an internship and notch case competition victories instead of tackles.
A top-20 defensive lineman coming into Purdue, Rouse had a brief NFL stint with the Kansas City Chiefs before putting his business degree to work as a financial representative with Northwestern Mutual and a strategy consultant for Payback.
Today, Rouse has transitioned to a role as a supply chain analyst thanks to a summer internship with Intel.
"Intel provided me with a specific project that covered a large span of supply chain and operations concepts," he says. "The skills I used most were forecasting and understanding which of the different methods are best to use given a certain circumstance."
Rouse says he landed the internship thanks to the support system in the master's programs area, specifically crediting Darren Henry, Krannert's director of diversity initiatives, Claudine Meilink and Wendy Dukes from the Krannert Professional Development Center (KPDC), and the Krannert Graduate Society of Black Managers (KGSBM).
"Krannert does a particularly good job of helping athletes leverage their on-the-field experiences," he says. "As athletes, our resumes may be limited because we haven't had as much time for internships. But Krannert coaches you on how to find advantages in your sports background that set you apart."
Throughout Rouse's internship, Krannert alumni working at Intel mentored him, helping lead to a full-time job offer in the Supply Chain Analyst Rotation Program that he began the summer after graduation.
Outside the classroom, Rouse says case competitions helped hone the same skills that made him a successful student-athlete. "Participating in case competitions provided a new avenue for my competitive nature," he says. "It combined everything I learned as an undergraduate as well as new skills I learned in grad school."
Being a part of the Crazy Monkeys — a campus improvisational comedy group — was also a highlight of Rouse's Purdue experience.
"It's a group of students from different majors and academic levels who perform in front of a crowd of 1,000 people monthly," he says. "Improvisation requires you to think quickly and on the spot, so it's helped me with everything from interviews to giving presentations."
Likewise, the experiences Rouse gained as a student-athlete continue to guide him in life and professionally.
"Through sports, I learned the value of goal setting, staying motivated, deciding what I want to achieve in life, and separating what's important from what's irrelevant or a distraction," he says. "I tried to bring the same discipline and hard work to my graduate studies, and have been fortunate to find people at every point who have helped me become a more successful leader."