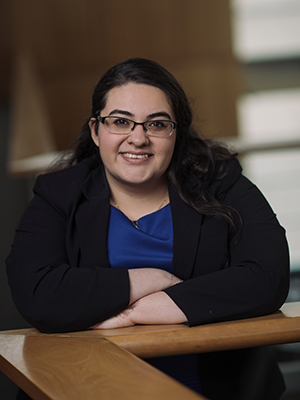 When Jennifer Martinez graduated from Purdue's Krannert School in May 2017 with a BS in finance and management, a concentration in management information systems, and a job offer from Accenture in hand, it didn't take long for her to return.
After traveling to Greece, Italy, China, France, England and more over the summer — trips inspired by a friend's study abroad experience in Spain ­­— she returned to West Lafayette to mentor new Purdue students, lingering on campus until the week before starting her career as a management consulting analyst in the New York City offices of Accenture.
After all, family comes first, and Martinez has now extended hers to include Krannert and the entire Purdue community.
As a young Latina from a small suburb in Indiana and the first in her family to attend college, she initially found herself drawn to West Coast schools until one of her early mentors suggested her interests in business and engineering might be a better fit for Purdue.
She visited campus and met Darren Henry, Krannert's director of diversity initiatives and the Cornell A. Bell Business Opportunity Program (BOP).
"He told me about the legacy of BOP, the amazing alumni it had produced, the summer program and the scholarship. After giving it some thought, I decided to accept," Martinez says. "BOP is honestly what brought me through the door."
She felt the impact of the summer program almost immediately. "Earning 11 credit hours as a 'pre-freshman' before starting the fall semester really put me ahead of my peers," she says. "It helped me flesh out my inexperience, jet-fuel my progression as a student and put me on a path to success."
She also found a home at Purdue's Krannert Mentoring Program, which spurred her to join numerous other student groups at Krannert and across campus. Her extracurricular highlights include more than 10 business plan competitions and internships at Travelers Insurance, Cummins and Accenture.
In addition, Martinez participated in numerous mentorship programs at the University and nonprofit organizations in the Lafayette-West Lafayette area.
"I believe success is better achieved when achieved together, so I am determined to extend a hand to hard-working people just as my mentors did for me," she says.
She is particularly proud of her work to help foster and maintain an environment of diversity and inclusion. Among her most memorable experiences was serving as president of the Purdue chapter of Ascend, a national organization dedicated to enabling its members, business partners and the community to leverage the leadership and global business potential of Pan-Asians.
"I'm focused on creating influence, whether it's on a small scale within the community or on a national and global scale," she says. "Ascend was a perfect opportunity for me learn what it takes to be a leader and how to manage a team."
Although she's only a few  years into her professional career, Martinez is optimistic about her future and eager to share her success with others.
"I am so excited and grateful to have come this far," she says. "I recommend Purdue and the Krannert School to motivated, rising leaders. It's a warm community with a technical and research background that merges perfectly with business, which is very powerful combination. It's a great place to be."