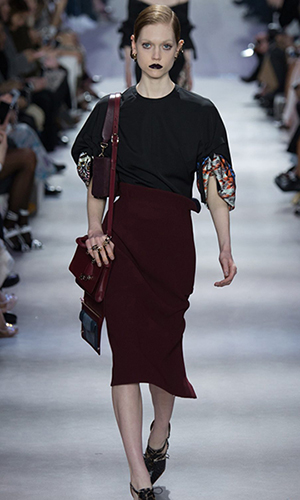 Senior marketing major Elizabeth Moore is a year older than her classmates at Krannert — and leaps ahead in international experience.
In fact, Moore didn't start at Purdue until she turned 19 following a three-year career as a fashion model for Next Management, which took her to runway shows in Milan, Paris, Tokyo, Madrid, Barcelona, London, New York, and Istanbul.
"It really began when I was in eighth grade and some of my mom's friends suggested I try modeling because I was tall," she says. "I hadn't ever thought about it because school always came first, so I waited until my sophomore year in high school. I went to an agency in Chicago expecting to do catalog modeling, not runway, but that's what they wanted."
Moore also thought the fashion industry would want someone older and more experienced with life, but it was actually the opposite. "They prefer young girls, and I had just turned 16, so the timing was perfect," she says.
On the way to her first meeting about a runway show in Milan, Moore prepped with her mother on potential questions she might be asked. "It ended up being good practice for my later interviews for internships," she says.
Following her first show, Gucci in Milan, Moore took off on a flurry of excursions across the globe to model the designs of fashion giants like Gucci, Marc Jacobs, Elie Saab, and Dior, among others.
"It was honestly a whirlwind," she says. "I was thrown into environments where they speak another language and the culture is so different, but it was a great learning experience. I gained so much knowledge about myself and the fashion industry."
To prevent modeling from interfering with her schoolwork, Moore took summer classes, enrolled in an online academy, and ultimately resorted to homeschooling to finish her high school degree. "At that point I thought I would continue modeling, but I was a little burned out and my parents encouraged me to apply to colleges," she says.
Fortunately for the Krannert School, one of those applications was to Purdue.
"I got an acceptance letter and was directly admitted to Krannert," Moore says. "The second that I saw that email, I was on cloud nine and realized that it was time to stop modeling, have a normal life, get my degree, and explore new opportunities."
Because Moore was a year older than her classmates were and had extensive work experience, she had already learned the importance of time management, organization, and cultural understanding, as well as how to present herself in a professional setting. Embracing the full college experience took a bit more effort, however.
"I had to acclimate to being in school full-time again and everything that comes with it, including the social aspect," Moore says. "I'm naturally an introvert, and modeling made me even more of an introvert. You don't really talk, you just stand there and show off the clothes. That was a big adjustment when I got to Purdue."
Becoming involved in campus-wide student organizations like PurdueTHINK helped Moore get out of her shell. The consulting group focuses on building innovative solutions for student clubs and administrative areas at Purdue.
"I was a project manager my sophomore year, which led to a really great initiative with one of the members of the women's basketball team who wanted to start a nonprofit for paraplegics who played basketball," she says. "It allowed me to get outside of myself and give back to the community."
Moore also serves as vice president of the Purdue Marketing Association, whose mission is to reach beyond the limits of classroom concepts of industry marketing and utilize the resources provided by Purdue to stimulate engagement, interaction, collaboration, and application among members. "Most of our events during my junior year were virtual because of COVID, so I'm excited about coming together face-to-face as a group this year," she says.
In summer 2020, Moore worked virtually as an intern for Escalate Insights Partners, where she conducted exploratory market research to understand customer needs and interest in diabetes product concepts for a biotechnology company. "I conducted a lot of interviews with physicians and made a lot of presentations in Zoom, which seems like the norm these days," she says. "It was a great experience to see the startup process for a new diabetes drug." 
Most recently, Moore completed a brand marketing internship with Delta Faucet Company on its Brizo product line, a luxury brand created by fashion designer Jason Wu. "I actually worked for him when I first started modeling, so it was like coming full circle," she says. "I had the opportunity to dip my toes in a lot of different areas, from analytics and audits to agency communications and graphic design."
As she completes her senior year, Moore is looking forward to the next phase of her career, which she hopes will be in a marketing role with a consumer goods company. "Modeling almost seems like a fever dream now," she says. "I'm ready for a new challenge."