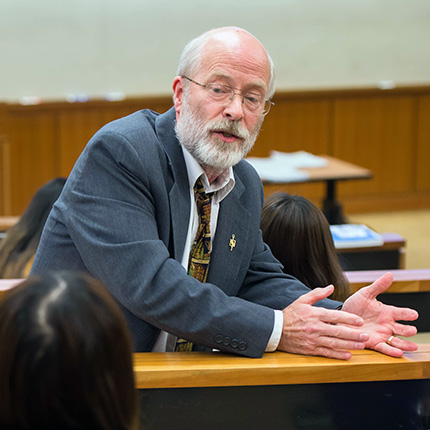 For Cliff Fisher, a clinical professor of management and area head in business law at Purdue's Daniels School, teaching is about challenging students to push their boundaries, question what they learn and then apply it to their lives.
"I'm here to assist the students' understanding of the material and then to help them apply it to real situations," Fisher says. "I want them to be able to analyze and think critically about what they come in contact with in life. On the first day of class, I talk to the students about their interests and experiences, and I draw on these experiences in my lessons."
They are lessons well learned.
One of the most decorated teachers at the business school, Fisher was among 45 Purdue professors recently honored as inductees into the University's Book of Great Teachers, which every five years recognizes outstanding teaching faculty who have demonstrated sustained excellence in the classroom.
Fisher also was a recipient of the 2011 Purdue University Outstanding Teaching Award in memory of Charles B. Murphy, the highest recognition of undergraduate teaching at Purdue. In addition to being named a Fellow of the Purdue Teaching Academy, Fisher has been honored by nearly every program at the Daniels School, including multiple awards for Outstanding Undergraduate Teaching, MBA Core Teaching, Weekend MBA and Executive Education Programs teaching.
Fisher, who has been at Purdue since 2005, aims to challenge all of his students, but he says helping struggling students gives him the most satisfaction. "I enjoy seeing the look on a student's face when they start to understand a new concept," he says. "It energizes me."
Along with teaching courses including legal foundations of business; torts, crimes and ethics; employment and labor law; law and economics; contracts for managers; and the regulatory process, Fisher has been a faculty advisor for Beta Gamma Sigma and Delta Sigma Pi business fraternities.
He also counsels students considering law school, participates in Service Learning Faculty Development workshops, and has served as assistant dean for undergraduate programs and assistant dean for online programs and instructional excellence.
"Having worked as an attorney and later as a manager, I'm able to tie business and law together with current examples from journals or the news media, discuss them with students and then to apply it to real-life circumstances," Fisher says. "To me, that makes it more understandable and engaging.
"One unique thing with business law is that a lot of the required reading by students deals with the historical aspect of particular cases or statutes. But in the classroom, the application of it is changing constantly because of new technology and evolving societal trends, so I'm always searching for something that makes it more relatable and timely."
That includes research authored, coauthored or edited by Fisher, who serves as a peer reviewer for the American Business Law Journal and sits on the editorial boards of numerous academic publications.
"I've probably had more than 20 journal articles published over the last five years, but teaching is where the fun is. I like the idea of research and writing so that I can bring it into the classroom," Fisher says. "I think of myself as a guide for my students. Working with them causes me to look more closely at where we've been and where we need to go."