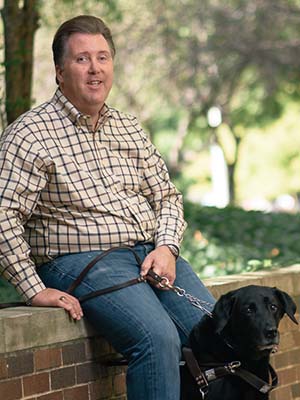 Donald Barnes received only one diploma when he graduated from Krannert's Executive MBA (EMBA) program in May 2016, but he happily shares it with his service dog, Linden, a black Labrador who has been at his side for nine years.
A rooms reservation agent with MGM Resorts International in Las Vegas, Barnes was diagnosed at age 15 with retinitis pigmentosa, a degenerative eye disease that causes severe vision impairment.  
"Linden accompanies me to work every day," Barnes says. "Once he learns our route he stores it in his memory bank, which makes my life wonderful. He can navigate me around a misplaced chair, find a table in the break room and guide me to the microwave to heat my lunch. Linden has broken barriers for me. People who might not normally talk to me feel more comfortable because he's there."
On the job, Barnes uses JAWS (Job Access with Speech), a screen reader and software tool for computer users whose vision loss prevents them from seeing content or navigating with a mouse.
"When taking room reservations, I use a dual headset with the guest talking in one ear while simultaneously listening to the screen reader talking in the other ear," Barnes explains. "Linden sleeps and takes it easy while I'm working, though some belly rubs are deserved in between phone calls."  
Although Linden wasn't even a pup when Barnes earned his first Purdue degree in hospitality and tourism management in 1993, he was indispensable during the EMBA program, which includes five residencies on the West Lafayette campus and a sixth at an international location.
"For 19 months he was always with me, guiding me through buildings, getting me to classrooms and sitting quietly through lectures," Barnes says. "We also studied abroad in Paris, where everyone we met fell in love with him."
He and Linden began planning their EMBA experience a year before starting the program. "I met with people working in information technology and the Disability Resource Center at Purdue," Barnes says. "They were very accommodating and guaranteed me that if something didn't work, they'd make it work."
The first month of the program left them both feeling anxious, Barnes admits, but ongoing support from Krannert faculty, staff and his EMBA classmates helped guide the way to success.
"Graduation day was emotional for me, but Linden was there too, of course," he says.  "Wearing his own cap and gown, he accompanied me across the stage to receive my diploma and stopped to pose for the audience so I would know it was time to smile for my photo."
Barnes is still smiling today.
"With my years of sales experience and now a master's degree in hand, I am ready to pursue my next goal – a management position in the casino resort business," he says. "Because of my partnership with Linden and Krannert, I'm now the man I always envisioned I could be."
"Anyone who works with Donald will never forget him. His sense of humor is something special," adds Purdue EMBA Programs' Executive Director Aldas Kriauciunas. "Donald's EMBA Class of 2016 cohort benefitted greatly from his – and Linden's – presence."