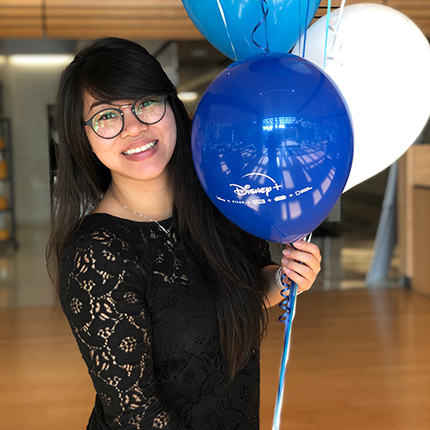 Esther Luoh knew from an early age where she wanted to work.
"Working for the Walt Disney Company was a dream ever since I was a kid," she says. "The experience of going to the theme parks with my family and seeing every cast member's smile inspired me. I was drawn more to the company's culture than the entertainment industry itself."
Before making the leap, Luoh knew she needed to choose a college that would give her a step up in her career plans. That was an easy decision, too.
"Purdue was always my top choice," she says. "I'd heard about the holistic education the university has to offer and the network of peers and alumni in various industries to provide any resources I might need. The diverse student body and the numerous clubs also helped me decide to become a Boilermaker."
Next for Luoh was pursuing a BS in Management and Accounting from the Krannert School, where she also concentrated in finance.  
"In the three and a half years I spent in Krannert, I not only obtained a business degree, but also learned the soft skills I needed to advance in my career," she says. "Through the many group projects, business cases, and leadership conferences, I learned how to better communicate and collaborate with peers and to make decisions more efficiently."
Putting herself on the fast track, Luoh graduated from Purdue in December 2013 and began working for Disney in January 2014 as a finance intern for its game segment Disney Interactive. She then transitioned into a role as a financial accounting analyst (later senior analyst) with Disney Consumer Products in its Licensing Revenue Accounting department. She is currently a senior financial analyst with Disney Parks, Experiences & Products' Technology and Digital team.
"I have enjoyed every part of my experience at Disney," she says. "I've met great people across all the different teams and have benefitted from great leaders throughout the years."
Disney, like many companies, is facing numerous challenges as the world continues to wrestle with the Covid-19 pandemic.
"The most common phrase I've been hearing in meetings since March has been, 'We are in trying times.' Covid-19 has greatly impacted every aspect of our work in the entertainment industry, from the emotions and mental health of our cast members to our quarterly earnings," Luoh says. "Our theme parks around the globe were shut down for an extended period of time with no clear guidelines of when they will be fully reopened. Without that revenue stream, our company took a big hit."
Still, Luoh is confident that Disney will recover, just as she remains confident in her career choice.
"My best advice to current students is to always go after your dream and believe in yourself," she says. "I didn't have the smoothest path to getting an internship or a full-time position during my senior year, while many of my friends had already gotten offers coming back from their junior year summer internship or early in the fall semester.
"I wanted to work for Disney in any way possible, so I applied to any business-related position that came across Disney's career website. Persistence paid off."