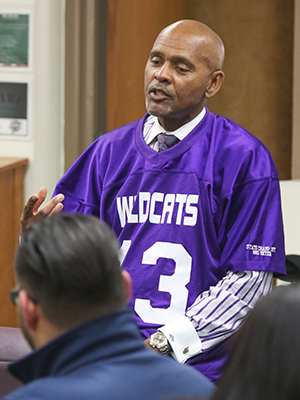 Roland Parrish has shared his story and his success countless times since graduating from Purdue's business school with a bachelor's degree in 1975 and a master's degree in 1976, yet the narrative today remains as relevant, compelling and inspirational as ever.
Just ask the teens who listened to him speak at his first alma mater, Hammond High School in Northwest Indiana, where in October 2016 he donned an honorary jersey as the second recipient of the Distinguished Hammond Alumni Leadership and Service Award and encouraged students to work hard, study hard and pursue the American dream.
Indeed, Parrish was on the fast track to success even before he arrived at Purdue in 1971 on a full athletic scholarship. He was an All-American in track and field and won the 1971 Indiana state title for Hammond High in the 800-meter run. He lettered four years on Purdue's track and field team, served as team captain in his senior year and was voted MVP twice by his teammates — an honor he cherishes to this day.
Under the mentorship of Dr. Cornell A. Bell, the longtime former director of the school's Business Opportunity Program (BOP), Parrish applied his athletic discipline to academics, making the dean's list seven out of eight semesters. "I spent more time in the libraries than on the track during my time on campus," says Parrish, an avid reader and lifelong learning advocate.
After completing his master's degree, Parrish joined ExxonMobil, where he worked for 13 years, received four promotions, and endured three reorganizations that included massive layoffs. Feeling the entrepreneurial pull, he applied to become a McDonald's franchisee in 1987. The fast-food giant rejected the application, but always a competitor, Parrish called the company repeatedly to make his case.
Some nine months later, he began a two-year McDonald's training program and worked 25 hours a week with no pay to learn the restaurant chain's system. He used $180,000 in savings to buy his first McDonald's franchise and lived on those same funds for nearly six months before taking any net revenue from his business. As profits grew, he steadily added stores by using working capital, business equity and loans.
Today, Parrish is the president, CEO and owner of Parrish McDonald's Restaurants Ltd., which owns 26 McDonald's franchises in North Texas with total revenues of more than $60 million annually. The average franchisee owns five restaurants. His company has consistently been among Black Enterprise magazine's BE 100 as one of the Top 100 Black Owned Businesses in the United States — a particular point of pride for Parrish.
Parrish's philanthropy is equally notable, including a $2 million gift to Purdue to renovate the former Management and Economics Library, which was dedicated in April 2012 as the Roland G. Parrish Library of Management and Economics. He also supports Purdue athletics and the Daniels School, as well as funding a scholarship in Bell's memory.
Parrish takes pride knowing that business students now study in a state-of-the-art learning center named in his honor and that future students will continue to benefit from the legacy of BOP, which celebrated its 50th anniversary in 2018.
"My experience at Purdue was very positive, which speaks to the quality of education I received," Parrish says. "The business school and the Business Opportunity Program are the cornerstone of my success."