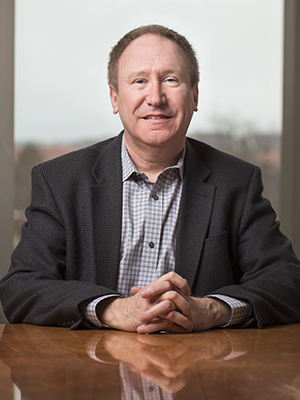 Brad Strock's path to Purdue and the Krannert School was clear, but his career in business and former role as chief information officer at PayPal took a few unexpected turns along the way.
"I grew up in Indiana and wanted to be a nuclear engineer," Strock says. "Having one of the best engineering programs in the world in my home state made Purdue an easy choice."
Once on the West Lafayette campus, Strock soon joined the College of Engineering's co-op program, which allowed him to alternate his academic studies every other semester with a professional work rotation at GE.
"That was a great experience on many levels," he says. "It helped me realize I wanted to change my major to mechanical engineering and also that I wanted to learn more about management. I decided to take the technical, problem-solving skills I developed as an engineer and expand them into the realm of business."
Upon completing his bachelor's degree in mechanical engineering in 1986, Strock applied to a number of business schools. Although most graduate-level business programs typically require several years of work experience, Strock's professional practice in the engineering co-op program made him uniquely qualified for Krannert's Master of Science in Management (MSM) program, so he remained at Purdue and joined Hillenbrand Industries after earning his MSM in 1988.
"My career path has been interesting," Strock says. "Many people with an engineering background start in a technology role and then migrate to more of a business role. I actually did the opposite. I started working at manufacturing companies and that led into banking, which was kind of a happenstance. I spent about ten years in different banking organizations and found myself gravitating more to technology roles. It was a great learning experience to see how IT intersected with large financial services organizations."
Strock joined PayPal in 2011 as vice president of global operations technology and was promoted to CIO in 2014 just prior its split from eBay, which he describes as "the most challenging thing that we as a company and I personally have ever accomplished."
"We had less than nine months to migrate about 30,000 users, stand up a new corporate IT platform, build two new data centers and connect a global network of 56 locations," he says. "We needed to take risks and even break some things along the way, but we fixed them quickly and ultimately finished the separation two weeks early."
Strock retired from PayPal in 2018.
"We wanted to change how people think about and use money and how merchants can be successful in retail commerce, which can be a very difficult business whether you're a startup or an established, traditional company," Strock says. "Technology is now disrupting almost every industry, so staying ahead of those disruptions is challenging. You have to be extremely nimble, anticipate trends in the market and be knowledgeable in making your investments."
Strock, a former speaker at the Krannert Executive Forum, offers similar wisdom to today's business students.
"The most important lesson to learn is how to think about things, how to solve problems and how to get up the curve quickly on technology, because whatever is current today is going to start to being obsolete tomorrow," he says. "That's an exponential function, so you really need to take advantage of all the opportunities that Krannert and Purdue offer you."