1990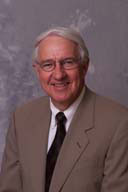 Dennis Weidenaar (right) becomes the fifth dean of the Krannert School on Jan. 1. A faculty member since 1966 and most recently associate dean, he replaces Ronald Frank, who resigned in October 1989.
The Krannert School's professional master's degree programs are ranked 19th among U.S. business and professional schools by U.S. News & World Report. Krannert ranks fifth among schools offering production management specializations.
John Carlson is named the Loeb Professor of Economics, and John McConnell is named the Emanuel T. Weiler Professor of Management. In addition, Herbert Moskowitz and Wilbur Lewellen, both chaired professors, are appointed as distinguished professors by the Purdue Board of Trustees.
Lewis Cullman, a New York industrialist and entrepreneur, provides a $1 million gift to create an endowed professorship. The Lewis B. Cullman Professorship in Manufacturing Management is implemented to further research and education in manufacturing enterprises and to develop productive relationships between faculty members and manufacturing organizations.
Hewlett-Packard Co. awards the Krannert School a grant for 21 microcomputers and a laser printer, a total gift of $210,000. The amount pushes Hewlett-Packard over the $2 million mark in computer equipment and software program grants since 1981.
1991
Business Week rates Krannert's Executive Master's Program 13th nationwide. The program is also lauded for its computerized communications linkage between students and faculty.
Jay Wiley, who played a leading role in developing the Krannert School, receives an honorary doctorate.
Herbert Moskowitz, the James Brooke Henderson Distinguished Professor of Management, is named the Lewis B. Cullman Distinguished Professor of Management. He becomes the second director of the Center for the Management of Manufacturing Enterprises, succeeding Leroy Schwarz.
1992
The Management Volunteer Program is created by master's degree students Beth Bricker and Tom Clepfel. About 40 students volunteer through the MVP Program to provide assistance each week to a number of charitable institutions in the Greater Lafayette area.
Krannert master's students Alexander Legall, Helen Rowe and Jothany Sharp win the first annual Case Study Analysis and Presentation Competition, sponsored by the National Black MBA Association. The competition is hosted by the John M. Olin School of Business at Washington University.
Kae Moore, director of development, is named assistant dean for development. In other appointments, Marie Thursby, professor of economics, is named director of the new Center for International Business Education Research, and Charlene Sullivan, associate professor of management, is elected chair of the University Senate. Alan Ferrell joins the Krannert School staff as director of placement.
Robert Johnson retires after 28 years of service to the Krannert School. Johnson was senior research associate of the Credit Research Center, which he helped establish.
Purdue University is announced as a winner in the Motorola University Challenge competition. As a result, 100 faculty members from the schools of management, engineering, and technology are invited to spend a week at Motorola University to interact with executives and managers responsible for implementing quality programs.
The Krannert School hosts its first two international alumni receptions. Dean Dennis Weidenaar and Professor Carolyn Woo meet with Krannert alumni in Singapore and Hong Kong to share information about the school and Purdue's Vision 21 fund-raising campaign.
1993
The Krannert Graduate School of Management ranks 23rd in the U.S. News & World Report survey of business schools. Krannert is ranked eighth among public schools and third in terms of production management programs.
Two options are added to the Krannert Master's Programs: manufacturing technology management and international management. MSIA students are offered four electives rather than two; MSM candidates can choose from nine electives rather than six; and MSHR candidates choose from 14 credit hours of electives rather than three. The changes are generated from feedback by Krannert students and recruiters.
Former Krannert Dean John Day is presented with an honorary doctorate for his 30-plus years of service to the School.
David Fuente, chairman and chief executive officer of Office Depot, initiates a $100,000 challenge to all Krannert alumni in support of the Annual Fund. Fuente encourages alumni to make gifts of at least $1,000, and he matches the increased portion of a donor's gift from the previous year up to $1,000.
1994
For the first time, the Krannert Annual Fund tops the $1 million mark, finishing at $1,301,506. Alumni successfully meet and exceed the $100,000 challenge of David Fuente, as management alumni increase their giving 52 percent over the previous year.
Professor George Horwich steps down on July 1 as the Burton D. Morgan Professor for the Study of Private Enterprise. He remains at the School in a half-time capacity. Professor Marie Thursby is named Burton D. Morgan Chair of International Policy and Management.
Spearheaded by Professor Steve Green, the Krannert School adds the Preparing Leaders + Stewards program (PL+S). The program includes elective course work, a plan for leadership development, and work with community organizations.
1995
The Weekend Executive Master's Program is launched in response to requests of local business leaders. The fully-accredited program is structured with a three-year, Saturday-only schedule, with students acquiring a total of 48 credit hours for graduation.
In addition, the Executive Master's Program begins a collaboration with ESC Rouen in Paris. It becomes the first joint venture of its kind between a U.S. and European business school, with shared administration, and culminating in an accredited master's degree in management.
Krannert School undergraduate programs rank No. 11 in U.S. News & World Report rankings. The School is rated second in operations/production management and third in quantitative analysis. Undergraduate students also are offered an international business and economics option for the first time.
Professor Mahohar Kalwani is named the American United Life Professor of Management.
1996
The Krannert School is ranked by Computerworld as the No. 8 "Techno MBA" program in the nation. Techno MBA programs are noted for combining business and computer technology courses to produce information systems leaders.
Professor Charlene Sullivan is presented with the Order of the Griffin by Purdue President Steven Beering. The award, one of the University's highest, recognizes Sullivan for her four years as chair of the University Senate.
Donald "Jerry" Ehrlich (above), president and chief executive officer of Wabash National Corp., is named the 1996 Krannert School of Management Distinguished Executive. To honor Ehrlich, friends of Wabash National establish the Donald "Jerry" Ehrlich Scholarships/Fellowships for employees and children of employees at the company.
1997
Arnold Cooper, the Louis A. Weil, Jr., Professor in Management, receives the 1997 International Award for Entrepreneurship and Small Business Research. He donates the monetary portion of the award, $50,000, for management student scholarships.
Krannert alum Richard Hansen donates $100,000 to the School to start the Student Managed Investment Fund (SMIF). Master's students at the Krannert School actively manage an investment portfolio with the funds, gaining a practical understanding of money management.
Hewlett-Packard provides support to Krannert for the integration of SAP R/3 software into the business curriculum. The Enterprise Integration Lab is created and SAP content delivery begins during the fall semester.
Dean Dennis Weidenaar hosts a luncheon for Krannert alumni in Germany. Alums come from Austria, Great Britain and the host country to hear news about the School and its future focus.
More than 600 alumni and friends share Krannert School spirit at the first-ever Boiler Bash, a tailgate party held before the Homecoming football game against Wisconsin. Later in the season, more than 120 Krannert alumni and guests meet in San Antonio to celebrate Purdue's upcoming appearance in the Alamo Bowl.
Krannert Executive Master's Degree Programs are ranked in the top 20 nationally by Business Week. The School is ranked the fourth most affordable program in the top 20.
1998
Richard E. Dauch, chairman of the board, chief executive officer and president of American Axle & Manufacturing, his wife, Sandy, and their family announce a $6 million gift to Purdue. The Dauch family gift of $5 million to the Krannert School serves as the anchor gift to begin the $55 million "Krannert at the Frontier" campaign. (The Dauchs donated $1 million to the athletic department.) In honor of the gift, the Center for the Management of Manufacturing Enterprises is renamed the Dauch Center for the Management of Manufacturing Enterprises (DCMME). The Krannert campaign calls for a new building to expand Krannert's facilities, faculty and outreach development, and student scholarships and programs.
A cooperative venture between the Krannert School and the School of Agriculture results in the first distance-delivered executive MBA in agribusiness. Coursework is delivered on the World Wide Web so that participants can continue their employment. In addition, the program offers an international residency in the Netherlands.
More than 50 doctoral candidates from Purdue's schools of Agriculture, Engineering, Pharmacy, Science, Technology, and Veterinary Medicine come to the Krannert School for a program administered by Krannert Executive Education Programs. The Applied Management Principles (AMP) Program provides some business knowledge that technical PhD candidates need to succeed in careers outside of academe. The course is supported by grants from the Sloan Foundation and the National Science Foundation.
Two Krannert alums received honorary doctorates. Frederick Ford, executive vice president and treasurer at Purdue, and Karl Krapek, executive vice president of United Technologies Corp., are honored at a May commencement ceremony.
1999
Richard A. Cosier (right) becomes dean of the Krannert School on Aug. 1. Formerly dean of the University of Oklahoma's Michael F. Price College of Business, he succeeds Dennis Weidenaar, who returns to teaching and research.
Professor Robert Plante is named associate dean. A 20-year veteran of the Krannert School, Plante succeeds James Dworkin, who later is named chancellor at Purdue North Central.
The Purdue Board of Trustees approves a proposal to expand management education facilities to create and enhance classroom and distance-learning space. Sketches are unveiled for a new facility at the corner of State and Grant streets (below). Leadership gifts for the Krannert at the Frontier campaign of $1 million each are made by William Bindley, chairman, president, and chief executive officer of Bindley Western Enterprises, and Diane and James Perrella, chairman and chief executive officer of Ingersoll-Rand; Tina and Karl Krapek, president and chief operating officer of United Technologies Corp., pledge $2 million to the campaign.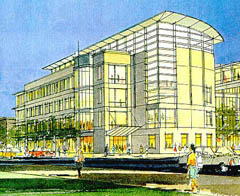 The Krannert School exports its flagship Master of Science in Industrial Administration (MSIA) program to Hannover, Germany. A partnership between Purdue and a German foundation results in the German International Graduate School of Management and Administration (GISMA). Under the agreement, Krannert professors travel to Germany to give students a U.S.-style MBA education. The foundation, supported by the state of Lower Saxony, individual donors, and corporate sponsors, agrees to pay Purdue $27 million over the first five years of a 10-year contract. Professor Dan Schendel is named GISMA dean.
A total of 100 undergraduate students from the Krannert School attend the first Barbara G. Doster Leadership Forum in Indianapolis. Named in honor of the School's retired director of management programs and sponsored by the School of Management Council, the forum helps students improve their "soft skills" by focusing on leadership development.
Amanda Teder, a junior in the Krannert School, is appointed by Indiana Gov. Frank O'Bannon as the student trustee on the Board of Trustees.