1980
National accounting honorary Beta Alpha Psi is installed. An MSIA/MS class of 144 students enters Krannert.
The first in a continuing series of exhibitions from corporate art collections opens in the Krannert Drawing Room.
Nobel Laureate Herbert A. Simon speaks in the doctorial seminar series.
The Krannert Charitable Trust funds $3 million for construction of a new executive education building. Under the direction of Professor Andrew B. Whinston, the Management Information Research Center is established with the assistance of a generous grant from IBM Corp.
1981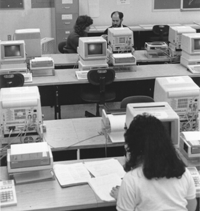 A charitable trust from newspaper publisher Louis A. Weil, Jr. funds a named professorship at Krannert. The School and the Krannert Alumni Foundation establish the Krannert Annual Fund and embark on a five-year program to raise $779,000.
An HP3000 Series 44 computer system, the result of a $230,000 grant from Hewlett-Packard, is installed for graduate student and faculty use.
A survey of CEOs of the country's largest businesses, conducted by Arthur Young consultants, rates the Krannert School 10th as a source of management talent.
Professor George Horwich is named to the Burton D. Morgan Chair of Private Enterprise.
1982
Jay W. Wiley, director of research and graduate administration and professor of economics, retires after a distinguished Purdue career of 44 years. An economics symposium in honor of Wiley features Krannert alumnus Hugo Sonnenschein, PhD 1964, professor of economics at Princeton.
Arnold C. Cooper is named to the Louis A. Weil, Jr. Professorship in Management. Dean Keith Smith announces his intention to return to a full-time faculty position in the School.
Krannert launches the Campaign for Distinction to raise $5.5 million for development of executive education and research programs as well as to furnish and equip the Krannert Center.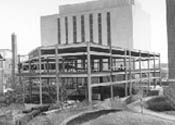 Krannert Center for Executive Education and Research under construction 1982 and completed in 1983
1983
The Krannert Center for Executive Education and Research is formally dedicated on October 21. Frank T. Cary, chairman of the executive committee and former chief executive officer of IBM Corp., delivers the dedication address. Ceremonies are attended by industry, University, and state dignitaries, including Governor Robert B. Orr and Ball Corp. President Richard B. Ringoen.
In June, the School inaugurates its first degree granting executive education program. Professor Dan E. Schendel is the director of executive education.
The Krannert Graduate Students Association (KGSA) is established. Steven Ruppel, MS in management, is elected KGSA's first president. Professor Herbert Moskowitz becomes director of professional master's programs.
Andrew Whinston is named Emanuel T. Weiler Professor of management and Economics; Wilbur Lewellen is named Loeb Distinguished Professor of Management ; John Day returns to Krannert after five years as University vice president of development and is named Herman C. Krannert Professor of Management.
Dennis J. Weidenaar, professor of economics, is appointed acting dean.
The Center for Tax Policy Studies, under the direction of economics professor James A. Papke, is founded. Its purpose is to provide research-based analysis and expertise on taxation and related budget issues to governments, firms and the public in Indiana and other Great Lakes states.
Steven C. Beering, dean of the Indiana School of Medicine is named Purdue's ninth president.
1984
Ronald E. Frank, associate dean at the Wharton School, assumes the duties of dean of the Krannert Graduate School of Management and School of Management on July 1. He is Krannert's fourth dean. Professors Donald King and Dennis Weidenaar are named associate deans.
The first multi-firm executive master's degree class begins studies. Apple Computer donates $46,000 in personal computers and peripheral equipment for use in the Executive Master's Program.
The Credit Research Center and the Indiana Council for Economic Education celebrate 10th and 30th anniversaries, respectively. Alfred E. Kahn, chief economist to President Carter and, as chairman of the Civil Aeronautics Board, leader of airline deregulation, delivers the Emanuel Thornton Weiler Lecture at the ICEE anniversary meeting.
1985
Former dean John Day is honored and his portrait unveiled at ceremonies on April 27 in the Weiler Lounge of the Krannert Center.
The undergraduate economics major is now jointly sponsored and supervised by the Krannert School and the School of Humanities, and Social Sciences. Professor Arnold Cooper becomes director of professional master's programs. Professor Gordon Wright is named director of doctoral programs.
Hewlett-Packard Co. contributes $450,100 in computer equipment that becomes part of an expanded personal computer laboratory used by students in undergraduate as well as graduate management programs.
Professor Wilbur Lewellen is appointed director of executive education programs. More than 100 managers are enrolled in the two executive master's programs. At Purdue's December commencement ceremonies 39 executive program participants from the first General Electric and multi-firm classes are awarded master's degrees.
In Indianapolis, the Krannert Alumni Foundation, in conjunction with the School, holds the first in a series of annual alumni receptions. Subsequently, receptions are held in Chicago, Lafayette, and Detroit
The Master of Science in Industrial relations program, established in 1958 and administered jointly with other Purdue departments, is revamped, renamed MS in human resource management, and brought wholly within the Krannert School.
1986
Krannert ranks 12th overall nationally and third among public institutions in faculty research productivity, according to a University Georgia survey of scholarly journals from 1975-85. Master's students David Cicardo, John Takerer, and Mitchell Walker win "most innovative entry" in the Nationwide Business Plan Competition.
The Schools of Engineering and the Krannert School join forces to offer the Purdue Engineering/Management Program, a residential short course drawing experienced engineers, scientists, and technical managers from 28 corporations.
A $20,000 gift from Alan E. and Mildred A. Peterson in honor of retiring accounting professor Charles Lawrence establishes the Peterson-Lawrence merit scholarships for freshmen entering the Schools of Management.
The Krannert Alumni Foundation is reorganized under a new constitution as the Krannert School Alumni Association (KSAA) to embrace bachelor's as well as master's and doctoral graduates of the school. The alumni board of directors increases to 25 members. More than 16,000 people are graduates of the Krannert School's degree programs.
Apple Computer contributes $53,000 in computer equipment for use in executive education. Hewlett-Packard Co. provides $215,641 worth of computer equipment, bringing the company's total gifts of equipment to more than $1,260,000 since 1979.
1987
MBA Magazine ranks Krannert 17th among 50 leading graduate schools of business for 1986 graduates' starting salaries.
Gordon Wright becomes the new Basil Sidney Turner Professor of Management, and Herbert Moskowitz becomes the new James Brooke Henderson Professor of Management. These two professorships are named for long time friends of the Krannert School - James B. Henderson, retired executive vice president of Shell Oil Co. and member of the Dean's Advisory Council; and Basil S. Turner, retired chairman of the board of CTS Corp.
The first Dalton-Krannert Case Competition for undergraduates is held, sponsored by Jack U. Dalton, BSIM 1965, founder and chief executive officer of Kolpak Industries.
1988
The Center for the Management of Manufacturing Enterprises is formally launched on Sept. 9. Guest speakers included Owen Bieber, president of the International Union, United Automobile Workers, and Richard Teerlink, president of Harley-Davidson Inc., Motorcycle Division. The center has three main purposes: to foster an educational program offering an undergraduate minor in manufacturing management, to identify a major research agenda, and to provide a forum for the exchange of ideas between the Krannert School and industry.
Purdue alumnus Burton D. Morgan provides funds for the first Burton D. Morgan Entrepreneurial Competition. First place and $5,000 goes to three Krannert master's students—Karen Berezinski, Frank Herby and Daniel Golles—for their proposal to establish day-care centers in shopping malls.
Wilbur Lewellen is named the Herman C. Krannert Professor of Management. Assistant Professor Michael Campion receives the first Jay N. Ross Young Faculty Scholar Award, which is funded by Arthur Andersen & Co. and friends of Jay Ross. Barbara Doster, associate director of undergraduate programs, receives the Helen B. Schleman Gold Medallion for her efforts to encourage Purdue's female students in academic and professional areas.
1989
Professor James Dworkin is named associate dean of the Krannert School of Management. He has been serving since 1987 as associate dean of Purdue's Graduate School. He succeeds Professor Donald King, who retires as associate dean and remains at the School.
The IBM Organizational Behavior/Human Resource Management Computer Laboratory is dedicated on Feb. 23. The lab, which was the result of a $640,000 gift from IBM's Personnel Group, provides hands-on learning for undergraduate and graduate students at the Krannert School.
Professor John A. Carlson is named Loeb Professor of Economics.