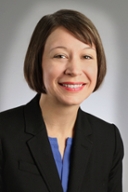 Courtney Metzger
Business & Industry Development
National Rural Utilities Cooperative Finance Company
EMBA Class of 2017
"The Purdue EMBA format was right for me. I did not want to pursue a program only offered online, as networking was important to me. Additionally, due to my geographic location, traveling every weekend would have been a major challenge. Other factors that rated high during my evaluation were Purdue's reputation and the quality of the professors the program offered."
Courtney is featured in Poets & Quants' list of the year's Best EMBAs for 2017. Read her full Poets & Quants 2017 Best EMBAs profile online.
Hear more from Courtney in this archived April 2020 webinar.