Special 2021 Krannert Toast Honors Military Alumni
Each year the Krannert community raises a glass to honor Herman and Ellnora Krannert, who in 1962 donated $2.73 million to establish the Krannert Graduate School of Industrial Administration. Pre-COVID 19, alumni from across the globe would gather in-person on the first Thursday of November for these "Krannert Global Toasts." Like so many other things impacted by the pandemic, the Krannert Global Toast had to be reimagined to include a virtual Toast to keep our Krannert alumni connected in a safe way.
This year, Krannert  hosted a special virtual Toast on Veteran's Day, November 11, to specifically honor the men and women who have dedicated part of their careers in service to  our country.
The evening began with a panel of Krannert alumni, all with rich military careers. The alumni and current students in attendance were "front row" for the panel discussion about lessons learned and the experiences lived while in the service. Attendees were then given the opportunity to ask questions of the panel and share their own insights.
Darrell Katovsich (BSIM '75, MS '77), an Army veteran who served 14 months in Vietnam, said, "The military taught me everything I used in my career. I just didn't know it yet."
Karie Linn (MBA '18), a former Navy flight officer, shared that the most impactful leadership lesson she learned was to "talk less and listen more." Jay Richardson (MBA '05), currently in the Navy Reserve, said that one of the most important lessons he's taken from his experiences is that "if you are not taking care of your people, you have failed as a leader."  
Sarah Ratekin, a Navy veteran and director of Krannert's CareerBound program, moderated the panel discussion.
The panelists also talked about their reasons for continuing their education at Krannert. Katovsich said he almost dropped out of Purdue after attending a complicated calculus lecture. Luckily, a professor he admired convinced him to continue his education. Richardson described his experiences getting "to know these people as friends and learning their different cultural backgrounds that bring the Krannert family together."
After the panel discussion, the veterans and attendees were broken out into smaller networking groups to continue the discussion and connect with each other one-on-one. The night ended as it always does – with a toast to Krannert. But this year, the alumni and students also raised their glasses in honor and with gratitude to all those who have served!
---
Purdue EMBA Alumnae Named Poets & Quants' 2020 Best & Brightest
For seven years, Poets & Quants has been publishing the Best & Brightest EMBAs, and Purdue has had the honor of having students featured for the last six. The online resource says the students were selected for their "contributions to the class, academic performance, extracurricular involvement, personal intangibles, and unique personal stories." This year, two Purdue alumnae were selected — Sarah Cadlock and Jennifer Killian.
Sarah, a Learning & Organizational Development Business Partner at Croydon Health Services NHS Trust in London, graduated from the IMM Global Executive MBA where she studied in seven different countries on four continents during the 19-month program. Dr. David Schoorman, Associate Dean for Executive Education and Global Initiatives at Purdue's Krannert School of Management, recognized Sarah's resilience during the current health crisis. "While many in Sarah's cohort, the captains of industry, are working from home during lockdown in many countries, their colleague Sarah is on the frontlines of the COVID pandemic risking her life and using her healthcare and management skills to save the lives of others." A graduate of Brighton University in the UK with a degree in The History of Design, Culture & Society, Sarah shared that she enjoyed "the challenge" of business school. "I actually enjoyed the steep learning curve each module brought academically." When asked how she wanted to be remembered, Sarah showed her vibrant personality. "As a confident person with a definite sense of self who isn't afraid to challenge the status-quo," she said, "as well as being a slightly eccentric Brit who is always ready for happy hour."
Jennifer Killian is the Owner and Head Veterinarian of Newaygo Veterinary Services in Michigan. Thinking back on why she decided to go to business school, Jennie said "I realized running a business via trial and error wasn't working well." Donna Steele, Senior Program Manager for Purdue's Executive MBA Program, shared why Jennie was a great addition to the program. "In building her veterinary practice, she has played every role from accountant to marketing director; veterinarian to human resource manager. This broad experience in entrepreneurship has made her a valuable resource among her peers in the EMBA cohort." Jennie entered the EMBA program after being out of school of 14 years, "You hear that it is significantly harder when you are older," she said. "I have never been a more effective learner than I was during the program. Maturity and life experience elevate the opportunity to absorb new knowledge and skills."
Read the full story from Poets & Quants.
---
Advice from Donald Barnes, EMBA Class of 2016
In 2016, as Donald Barnes was graduating from our Executive MBA program, he shared a little about his journey with us in this story. Now, 4 years later, he is sharing his advice for working professionals who have a disability and are considering pursuing their MBA. Hear from Donald about his persistent pursuit of the next giant leap:
"Greetings from the hot desert of Henderson, NV. I'm Donald Barnes, Purdue University BS HTM '93 and Executive MBA '16, and I work for MGM Resorts International in Las Vegas at the corporate contact center where I take reservations for all of our 12 resorts in Las Vegas. I'm blind and get around with the assistance of my seeing eye guide dog. He is a male yellow Labrador retriever. His name is Teddy and he's 5 years old. The greatest highlight of the [EMBA] program was exposing my cohort to someone who has a disability. This was an eye opener for some but for most it helped them when they went back to their own neck of the woods. My advice for anyone with a disability wanting to go get their MBA just be prepared that you will need to make a lot of sacrifices along the way to graduation. Before starting the program, I highly suggest making sure that you have all of your accommodations set up ahead of time while on and off campus IE notetaker, reader, scribe and able to use any technology devices. This way you are on the same playing field with the rest of your cohort. Do not be afraid to ask questions if you do not understand anything because everyone is there to make sure that you are successful."
---
Welcome to the Purdue Alumni Family, Executive MBA Class of 2020
On May 15, 25 working professionals graduated from the Purdue University Executive MBA program. While the current COVID-19 situation did not allow for a traditional commencement, graduates were sent a box with their diploma and commemorative items to celebrate from their homes. President Mitch Daniels gave his commencement speech virtually, sharing "Wherever you're viewing this virtual ceremony, I hope you are surrounded by people you love, people who helped you reach this moment of achievement."
During the 19-month program, this cohort came together in residency at Purdue University five times and traveled together to Spain for their international immersion residency. As graduates, they join a vast Purdue alumni family of more than 600,000. So no matter where their travels leads them, they're sure to find a Boilermaker close.
The Beta Gamma Sigma honor society represents students ranked in the top 20% of their class and enrolled in a collegiate management program at AACSB accredited institutions. The Purdue chapter is pleased to recognize the outstanding scholastic achievement of the following students by inviting them to membership: Jennifer Cline, Maya Devakiamma, Jennifer Killian, Tony Merlie, and Vinutha Ram. Tony Merlie was also awarded Honor Scholar for being the top student in the class.
Purdue's program is full of well-respected faculty members. But each year, the students vote to recognize a few select professors who have stood out among the rest. The Executive MBA Class of 2020 awarded the Outstanding Professor to Ben Dunford and recognized Thomas Eppel & Amanda Thompson for Excellence in Teaching. These professors go above and beyond to inspire the next giant leap in their students again and again and again.
Vinutha Ram and Jason Meridew were selected as student responders. Though they weren't able to offer their send-off to their colleagues in person, they gave their congratulations and inspiration to the class through poetry and a video message.
To all the 2020 EMBA graduates, we can't wait to see how far you'll go: in your lives, your careers, and into the better world you're helping to build. You've come so far. Keep going.
---
20 Top Executives Earn Two MBA Degrees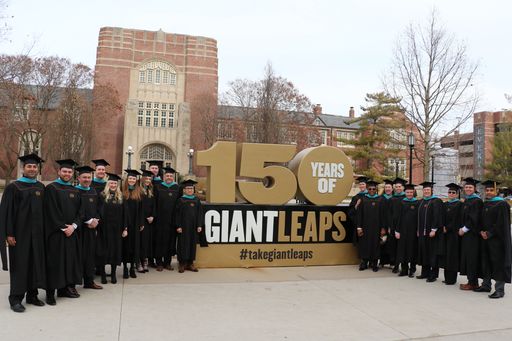 Congratulations to 20 incredible executives, who graduated from the IMM Global EMBA program on December 15, 2019, earning them both a degree from Purdue University and from TIAS School for Business and Society at Tilburg University in The Netherlands. This diverse class joins a global family of over 600,000 Purdue alumni.
Over 19 months, these professionals traveled approximately 44,000 miles for their immersion residencies across the globe. In December, they reunited for commencement in West Lafayette, Indiana, where many were joined by their families for the celebration.
Four individuals were recognized as 2019 Beta Gamma Sigma members: Vivek Chakrabortty, Beth Hinchee, Christian Kersten, and Brad Wensel. Beth Hinchee was also recognized as the Krannert Scholar, for finishing the program with the highest GPA.
The cohort voted on the faculty awards, recognizing Filip Caeldries for Outstanding Professor, and Thomas Eppel for Excellence in Teaching. Jessica Heaton and Aaron Wheadon provided the student response, sharing many memories and lessons learned during the cohort's time together.
We wish this group a lifetime of success, and look forward to staying in touch with each of them as alumni.
---
Congrats to our Newest Boilermakers
On May 10, 2019 we celebrated the graduation of our Executive MBA Class of 2019, a cohort representing 6 U.S. states and Costa Rica; companies including Johnson & Johnson, Cisco, Cummins, Illinois Association for Behavioral Health, BP, and more; 14 years' of work experience on average; and three U.S. veterans: Jason Anderson, Ken Janicke, and Chris Powers. 
The majority of the class made it back to campus for graduation festivities, which included a dinner for the graduates and their loved ones in the Purdue Memorial Union. Beta Gamma Sigma, or top 20% of the cohort, nominees were honored. They are Paul Aoun, Anna Dietrich, Ken Janicke, Peter RIgakos and Srinivas Tadepalli.
Srinivas Tadepalli was also acknowledged as the Class of 2019's Honor Scholar, having the highest GPA in the group.
The students voted on top faculty -- Excellence in Teaching went to Dr. Thomas Eppel, and Outstanding Professor was awarded to Krannert Associate Professor Ben Dunford.
We congratulate our EMBA Class of 2019, and commend them for accomplishing so much in 19 months. Boiler Up!
---
Welcome to the Alumni Family
Congratulations to the IMM Global Executive MBA Class of 2018, which celebrated graduation with a dinner and awards ceremony at Purdue in mid-December.
Beta Gamma Sigma, or top 20% of the cohort, nominees were honored. They are, from left, Jordan McCroskey, Freddy Horn, and Kim Coldiron. Freddy was also named the cohort's Krannert Scholar, having the hightest GPA in his class.
The class of accomplished professionals traveled to seven countries on four continents together, studying in Europe, South America, China and the U.S. They earned two MBAs in 19 months -- one from Purdue and one from partner school Tilburg University in The Netherlands.
The class voted Dr. Filip Caeldries Outstanding Professor, and gave Dr. Thomas Eppel the Excellence in Teaching award.
The vast majority of the cohort traveled back to West Lafayette for graduation with family and friends in attendance.
We extend a big Boiler Up! to the newest members of the Purdue alumni family.
---
Stay Up-to-Date with the Purdue Executive Newsletter

Hot off the presses! The new Purdue Executive newsletter highlights our new IMM Global EMBA program school; alumni accomplishments; Weiler Lounge's makeover; our Economist rankings; and much more!
Read the top 5 digital marketing techniques you should be taking advantage of and an update from Purdue EMBA Programs' executive director. See photos from our on-campus residencies, and learn more about our two recent cohorts. Plus, find alumni events and learn how to stay connected to Krannert.
The Purdue Executive is a newsletter for the alumni and friends of the Krannert Executive Education Programs at Purdue University.
Alumni: We welcome your good news for the Alumni Notes section anytime! Email krannertexec@purdue.edu.
---
EMBA 2018 Boilermaker graduates
In May we celebrated the graduation of our Executive MBA Class of 2018, a cohort representing 10 U.S. states; companies including PwC, Nestle, Amazon, Whirlpool, Rea Magnet Wire, and more; 14 years' of work experience on average; and five U.S. veterans: Tim Browning, John Carr, Karie Linn, Nick Warden and Kyle Williams.
The majority of the class made it back to campus for graduation festivities, which included a dinner for the graduates and their loved ones in the Purdue Memorial Union. Beta Gamma Sigma, or top 20% of the cohort, nominees were honored. They are Eric Bilinski, Lucy Houchin, Arunashish Majumdar, Heng Tong Pit, Matthew Stowe, and Robert Ulibarri.
Eric Bilinski was also acknowledged as the Class of 2018's Honor Scholar, having the highest GPA in the group.
The students voted on top faculty -- Excellence in Teaching went to Dr. Thomas Eppel, and Outstanding Professor was awarded to Krannert Associate Professor Ben Dunford.
We congratulate our EMBA Class of 2018, and commend them for accomplishing so much in 19 months. Boiler Up!
---
Grow your Network
All Krannert alumni -- and current Purdue Executive MBA students -- are invited to join the Krannert Network to connect with fellow Boilermakers and to use the trusted Krannert environment to expand professional networks.
Find a mentor, become a mentor, get advice, learn about upcoming events and more when you join Krannert Network.
Signing in is easy when you use your LinkedIn or Facebook account.
Seeking further engagement opportunities at Krannert? Contact our External Relations team today.
Lastly, be sure to find Krannert Executive Education Programs on Facebook, and an IMM program-specific Facebook page here.
Follow us on LinkedIn for industry news, networking opportunities, and more.
---
The IMM Global EMBA Class of 2017 -- a Cohort of Firsts
Congratulations to our newest graduates, the IMM Class of 2017!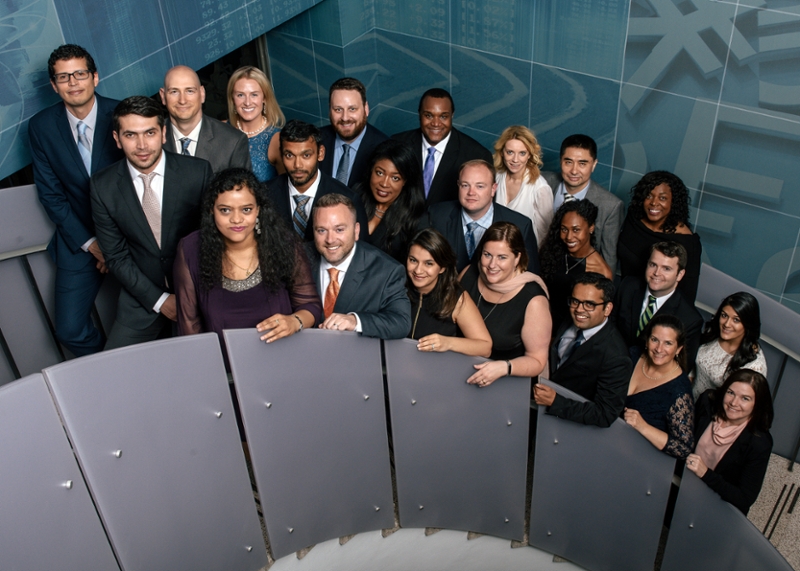 This group of professionals, hailing from seven countries, was the first to study in Vilnius, Lithuania, as part of the IMM program.
This cohort was also 50% female, a first for the Purdue program and a rarity for EMBA programs around the world.
IMM 2017 students traveled -- with friends and family -- from across the globe to attend graduation festivites at Purdue in mid-December.
Dr. Thomas Eppel was named Outstanding Professor by the class, and Dr. Filip Caeldries and Dr. Ron Lazer were given Excellence in Teaching awards.
The Krannert Scholar -- or highest academic achievement in the class -- was Wendy Teare, a senior program manager at the Boeing Co.
Read more about this amazing group in our Krannert Magazine feature.
Archive

---

EMBA 2017's Courtney Metzger a Poets & Quants' Best and Brightest

For the third consecutive year, a Purdue EMBA student has been featured in Poets & Quants' list of the year's Best EMBAs. For 2017, the online resource featured Purdue EMBA Class of 2017's Courtney Metzger.

Courtney is a manager at Kenergy Corp. who, in her "free time," serves as a CEO for a properties LLC; as a CFO to a holdings firm; and consults pro bono for several businesses in northwestern Kentucky. She graduated from Purdue in May 2017 and was her cohort's Honor Scholar.

She says she knew the Purdue EMBA Program was a fit for her due to our format. "I did not want to pursue a program only offered online, as networking was important to me. Additionally, due to my geographic location, traveling every weekend would have been a major challenge."

Courtney's focus on networking paid off. Asked what she enjoyed most about business school, she said, "I enjoyed getting to know the members of my cohort the most. Our group had an almost instantaneous connection. In both the class setting, during virtual meetings and even during the long hours we shared in breakout rooms, they taught me a lot from their own experience. They also helped me find and work on some of my growth edges. Through this program, I have made life-long friends. I feel extremely fortunate to have learned from such an accomplished group."

Read her full Poets & Quants 2017 Best EMBAs profile online.

---

Our newest Boilermakers: the Executive MBA Class of 2017

On May 12 we celebrated the commencement of our EMBA Class of 2017 with a dinner for the students and their family members and friends, and an awards ceremony with speaker David Hummels, Krannert's dean, and student responder Brianne Keyes.


More than half the cohort traveled to campus for the graduation ceremony at Purdue's Elliott Hall of Music. At our celebration in the Purdue Memorial Union following the official ceremony, Purdue EMBA Programs recognized the EMBA 2017 Beta Gamma Sigma -- or top 20% of the class -- members: Kriti Chandhoke, Brianne Keyes, Ryan Laskey, and Courtney Metzger. Special recognition was also given to the cohort's Honor Scholar, Courtney Metzger, and to Peter Rusch, for his military service.

As student responder, Brianne Keyes shared lessons learned (some unexpected) and images from the cohort's 19 months together.

EMBA Senior Program Manager Donna Steele shared with the room the top faculty, as voted on by the students. Accounting professor Dr. Ron Lazer was voted Outstanding Professor, and Dr. Thomas Eppel was recognized for Excellence in Teaching.

We congratulate our newest Boilermakers on earning their Executive MBA from Purdue, and look forward to engaging with them as alumni.

Krannert welcomes alumni Back to School

Krannert Executive Education Programs hosted its annual Back to School day on May 5, 2017, for Krannert alumni. Evidence of our commitment to lifelong learning, this full day of classes and networking was at no charge to our alums.

Twenty-four alums from across the country traveled to Purdue for this year's event. Included in that group were Executive MBA alumni from the Classes of 2006, 2007, 2009, 2010, 2011, 2012, and 2015.

Courses offered covered Leadership; the U.S. economic outlook and policy challenges; and the importance of an Executive Presence, or how to construct effective presentations, using both non-verbal/verbal communication to influence an audience. The three 90-minute sessions were taught by renowned Krannert faculty.

Alums were able to network during breakfast and lunch, and mingled with current EMBA students -- the EMBA Class of 2018 was in residency.

We capped our Back to School day with a Purdue vs. Northwestern baseball game at Alexander Field.

Learn more about alumni events by liking us on Facebook. Krannert alumni: Join Krannert Network to stay up-to-date on events and more.

---

IMM Class of 2016 graduates earn two MBAs

In December 2016 we celebrated the graduation of our IMM Global EMBA Class of 2016.

Members of the cohort, who had studied in seven countries on four continents, braved icy weather to return to Purdue for the university's graduation ceremony and a dinner for the students and their family and friends in the Union.

Students who graduate from the IMM program earn two MBA degrees, one from Purdue and one from a European partner school.

We congratulate our newest graduates and welcome them to the Purdue alumni family. Boiler Up!

Back to School provides classes, networking for Krannert alumni

On Friday, May 6, we welcomed Krannert alumni to Krannert Center for Back to School 2016, a full day of classes and networking with fellow alumni and current Executive MBA students.

The annual event promotes lifelong learning by offering graduate-level courses at no cost to our alumni. This year's Back to School featured a career management workshop by guest speaker Ginny Clarke; Dr. Karthik Kannan's class, Digitization and Information Flows: How will the Internet of Things and Big Data Transform our World?; and Dr. Ben Dunford's session on leadership. We capped the day with a tour of Purdue athletic facilities and a reception in Mackey Arena's Spurgeon Club.

Stay tuned to this page for information on Back to School 2017. The alumni event is held the first week of May each year.

Some of the alumni attending Back to School 2016 are seen here in front of Krannert Center during a break in the day's schedule.

---

Stacey Mueller named to list of best 2015 EMBA students

Purdue EMBA Programs alumna Stacey Mueller is one of Poets & Quants' top 30 most exceptional executive MBA graduates from the Class of 2015.

Graduating with a near perfect GPA, Stacey was top 5% of her graduating cohort. The Montana resident is CFO of Blackfoot Telecommunications Group, which she "pursued and landed as a result of the MBA experience."

---

Executive Education welcomes newest alumni

We congratulate the EMBA Class of 2015 on their graduation from Purdue. Members of EMBA 2015 traveled to campus May 15 to celebrate with their family and friends at the Union and Elliott Hall of Music.

During the executive education dinner guests heard from student responder Greg Beaver. Beta Gamma Sigma (top 20% of the class) recognitions were awarded to Jeeva Babu, Khurram Chaudhry, LaToya Davis, Jeff Hirsch, Brent Myers, and Stacey Mueller, who was also named Honor Scholar (top 5% of the class).

It has been a rewarding 19 months, and we wish our new alums much success.

Members of the EMBA Class of 2015 pose in their graduation garb at Purdue's Union Club Hotel.

---

Alumni come Back to School

Executive Education welcomed more than 30 Krannert alumni Back to School on May 8 for a full day of classes and networking in Krannert Center. The group, made up of EMBA, IMM Global EMBA, and Krannert undergraduate degree earners, attended lectures on global competency; the importance of trust in leadership; and the critical issue of industrial knowledge loss associated with the retirement of 10,000 Baby Boomers a day.

The full day of classes, good food and networking was capped by a wine presentation and tasting in Purdue's Enology Library. Alumni also were able to engage with our EMBA Class of 2016, in residency that week.

We thank our alumni for coming back to class. Executive MBA alums: Look for your invitation to Back to School Day 2016 next spring!

Krannert alumni gathered May 8 for a full day of classes during Back to School 2015.

---

EMBA alum shares wisdom with students as Forum speaker

Krannert welcomed EMBA Class of 1997 alumnus Todd Hyatt back to campus in late March 2015 as a Krannert Executive Forum speaker. The Forum is a management class that features top-level executives and community leaders sharing their experiences with students. It has been a valuable addition to Krannert's management curriculum since 1973.

Todd is the Executive Vice President and CFO of IHS in Englewood, Colorado. Todd talks about his experiences as a Purdue EMBA student and the benefits of his executive education in this testimonial.

EMBA 1997 alumnus Todd Hyatt spent two days at Krannert interacting with students as a Krannert Executive Forum speaker.

---

Exec Ed alum helps launch new on-campus venture

Paul Ryder, EMS 1994, returned to Purdue on February 3, 2015, to announce, along with university President Mitch Daniels, the grand opening of Amazon@Purdue. Read more and find a link to a video of the opening ceremony on News and Events.

PU President Mitch Daniels and Krannert Executive Education alumnus Paul Ryder, right, cut the ribbon at the new Purdue-Amazon collaboration in the Krach Leadership Center.

---

Congratulations to our newest alums

Members of our IMM Global EMBA Class of 2014 celebrated their new status as Purdue Executive MBA alumni the weekend of December 20-21, with festivities in Krannert Center and the Purdue Memorial Union and a graduation ceremony in Elliott Hall of Music. Our students traveled from around the world with their family and friends to reunite in West Lafayette.

Twenty-one students graduated in the Class of 2014, with 19 able to travel back to West Lafayette for the ceremony.

---

Executive Education welcomes alumnus Matthew Cohoat, corporate partners, EMBA program alumni

Purdue's Krannert Executive MBA program and the Krannert Professional Development Center hosted a fall 2014 Networking Event on October 23rd at Krannert Center that provided an opportunity for a select group of Purdue Corporate Partners to network with Purdue EMBA students and alumni.  

Mike Heard of CNO Financial Group, left, joins guest speaker and Krannert alumnus Matt Cohoat in Krannert Center for an alumni-networking event October 23, 2014.

Matthew Cohoat, EVP and CFO of Becknell Industrial, gave an address in Krannert auditorium prior to the networking evening in Weiler Lounge.  Matt Cohoat oversees the capital management and analysis of capital structure of Becknell Industrial.  He is also responsible for all accounting, financial reporting, human resources and risk management.  A 20-year real estate industry veteran, Mr. Cohoat is widely recognized for his management of key banking and institutional investor relationships. He received a Bachelor of Science degree in Accounting from Purdue University and is a Certified Public Accountant.

Aldas Kriauciunas, executive director of Krannert Executive Education Programs, left, caught up with IMM Global EMBA alumnus Mike Decker of Kiewet Power Constructors.

The networking event featured alumni, current students, Krannert faculty and special guests from CNO Financial Group, Amazon, Braunability, GE and more.

We are very excited by the success of the evening, and look forward to continuing to offer these events as we increase our efforts to provide executive networking opportunities and career services to our students.