The day following the assassination of the Rev. Martin Luther King Jr. in April 1968, a group of Purdue business school faculty members approached then-dean John S. Day to establish the Business Opportunity Program (BOP) to increase diversity and provide underrepresented students with access to a world-class business education.
BOP, which enrolled 11 students in its first year, was one of the first student-success programs to promote inclusion within a major business school and the first diversity program at Purdue.
In BOP's second year, the late Dr. Cornell A. Bell was hired to direct its growth. Bell, who was recognized in the Gary, Indiana, area as an outstanding educator and administrator, went on to earn his PhD in educational administration from Purdue in 1972. He led BOP and other diversity programs at Purdue for 37 years, ensuring that underrepresented business students would continue to enrich the school's environment for decades to come.
Under Bell's leadership, BOP blossomed into a nationally recognized program that recruits, enrolls, educates and provides support for both undergraduate and graduate students pursuing management careers. In 1996 the program was renamed in his honor.
Bell's first recruit was Roland Parrish (BSIM '75, MSM '76), president, CEO and owner of Parrish McDonald's Restaurants Ltd., which owns 29 McDonald's franchises with total revenues of more than $67 million annually. It was Bell who persuaded Parrish to change his major at Purdue from engineering to industrial management.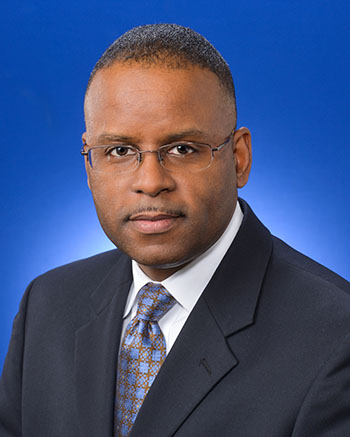 "My experience at Purdue was very positive, which speaks to the quality of education I received at the University," Parrish says. "The School of Business and the Business Opportunity Program became the cornerstone of my success."
Among the program's other notable alumni is Tim Coleman, who earned a BS in industrial management in 1990 and currently serves as vice president of information technology in Eli Lilly and Company's Medicines Development Unit. He still credits much of his career success to his time at Purdue and his experience in BOP.
"BOP provided a supportive community that inspired me to build valuable skills and strive for success at work and every aspect of life," Coleman says. "Dr. Bell taught us to be professional in appearance and approach, exhibit Boilermaker grit and determination, show initiative, and be trustworthy and reliable in meeting our commitments. Perhaps the most important skill I learned was the power of building strong relationships in the business community, which is the engine of progress."
Summers of success
Today, BOP has more than 1,400 alumni worldwide and boasts a graduation rate of 95 percent. That's higher than Purdue's overall graduation rates for all students as well as for underrepresented students. The program is now under the direction of 2007 BOP alumnus Darren Henry, who was among Bell's final class of MBA recruits.
At the undergraduate level, the program's cornerstone is the BOP Summer Session, Henry says. Designed for incoming freshmen seeking a business degree from the School of Business, the rigorous eight-week session coincides with summer school and begins in June. Students take introductory business courses that count toward graduation and prepare them for the challenges of their first year.
Students live together on the same floor of a residence hall, get acquainted with campus culture, and learn about the resources on campus that can help them succeed. The relaxed summer atmosphere gives students the chance to acclimate to campus and college life early and assists them in the transition from high school to college.
"BOP is designed to put students on the path to the highest levels of corporate leadership," Henry says. "From mentoring to networking, we're among the best at the professional development of underrepresented business students."
Jose Herrera, a senior majoring in accounting and finance, says the BOP Summer Session has been the most memorable experience of his time at Purdue. "It provided me with an experience to prepare myself for what was to come and allowed me to connect with my peers before the start of the semester," he says. "The courses and curriculum are demanding and rigorous, but help prepare us for what we will experience in our careers."
Shanise Buford, a senior majoring in finance, says BOP gave her the confidence to pursue opportunities that she didn't think she would encounter during college.
"This has allowed me to broaden my network and continue to rise to a new level of success with each opportunity," she says. "In addition, I have met like-minded people who have become some of my best friends and advocates. I have always had hard-working and goal-oriented people to study with, but I also have a sense of family who are there to celebrate with me or do something fun around campus."
Developing future scholars
BOP is now creating opportunities for top high school students from across the country to explore the world of business and learn how the business school prepares students for a successful career post-graduation, Henry says.
By participating in BOP's Future Scholars Summer Camp, high school students from historically underrepresented groups enhance their teamwork and leadership skills, get access to Fortune 500 leaders, faculty and alumni, and learn more about the Purdue admissions process and financial aid opportunities.
"The Future Scholars Summer Camp presents a unique opportunity for some of the top rising high school seniors from across the country to develop knowledge of college life and Purdue while being introduced to potential topics of future study," Henry says. "It prepares students to navigate the real world."
The summer 2022 Future Scholars Camp welcomed 44 students from 10 states who came together to learn about the essentials of business and how BOP can help them reach their goals. "One of the things that separates our camp from others is that we allow students to have an extended amount of time with professors, alumni, and current students," Henry says. "I don't think you see that interaction and personalization at other high school business camps."
Indeed, the BOP Future Scholars Camp provides students with a clear advantage. Going into their senior year of high school, Future Scholars are more likely to get into Purdue than their peers who have not gone through the program. Once admitted, they are also more likely to be awarded a merit scholarship. "With this program I have a foot in the door when it comes to the academic process," says Stephen Ogunmakinwa, a rising senior from Brownsburg, Indiana.
Alumni like Coleman are also looking forward to the next generation. "Diversity initiatives like BOP will continue to thrive and succeed only if we step forward and share our gifts, grace, and example with future generations," he says. "Creating a level playing field is vitally important. Everyone needs and deserves the same opportunities we received."