She focuses on teaching her students how to apply new knowledge both today and in the future. In a project on the lifecycle of a business she started with some basics – deciphering the "alphabet soup" that is Washington, D.C., namely the SEC, FBI, EPA and other agencies that business answers to. She ended the project aft – well, the end.  
"We literally went through that lifecycle approach and ended with bankruptcy, because that's the death of a company," Putman says. "It's been so much fun to watch students' light bulbs go off – 'now I understand why insurance matters and why we're talking about it in a business class.'"
Putman is actively mentoring new faculty. She's part of a committee that recently drilled deep to define teaching excellence at the Daniels School of Business. A key characteristic of excellent teaching is not falling into the "this is the way I've always taught, and this is the only way I'm going to teach" mindset, she says.
"Let's instead operate in a continuous improvement type of environment," Putman says.
New Majors & Minors
You can get very comfortable with your degree offerings, and trying to do something different takes a lot of energy, says Dean David Hummels.
"It takes a lot of buy-in from your faculty. But we feel we're at a really interesting turning point in the history of not only the Daniels School and Purdue, but higher education as a whole, in which very slow-moving approaches to innovation in curriculum are not going to be adequate," he says.
"The speed at which business is changing, the speed at which faculty expertise is changing, all of that points to the need for a curriculum that adjusts, that adapts, that responds to market needs on a much faster time scale than before."
When thinking about the Daniels School's degree offerings, Hummels is mindful of three key populations:

Prospective students: What are they looking for? What skill sets and capabilities do they wish to develop?

Employers: What capabilities are they looking for from our students?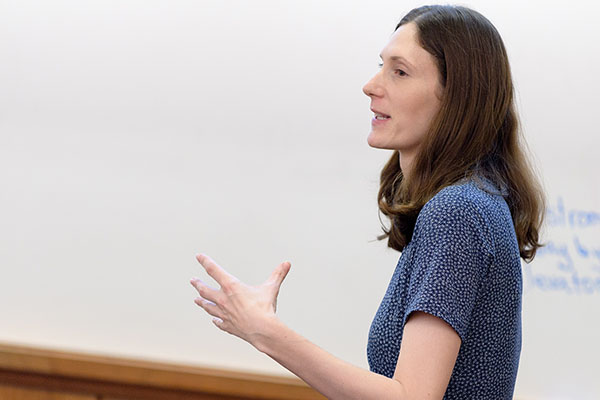 Faculty: In what areas do we have truly outstanding faculty?
"Our faculty in supply chain and operations management are among the best in the entire world, with some of the leading scholars running one of the best master's programs anywhere," Hummels says of Daniels School's's MS in Global Supply Chain Management. "There's an enormous demand for folks who can solve supply chain problems, and students realize that there are very interesting problems to solve."
So, Daniels School created the Supply Chain and Operations Management degree program to serve a combination of needs; utilize faculty who are truly outstanding in this area; and overhaul the school's Supply Chain, Information and Analytics program.
The new undergraduate Business Analytics and Information Management program parallels the Daniels School's top-ranked BAIM master's program. Applications for the first class are outsize, and Hummels predicts the BAIM BS will become one of the Daniels School's largest and most celebrated undergraduate majors.
The just-launched Integrated Business and Engineering (IBE) BS degree is a joint program with Purdue's renowned College of Engineering that prepares graduates to work at the intersection of engineering and business.
To answer the growing demand for talent within the rapidly evolving real estate industry, the Daniels School will also offer two new minors starting in fall 2022 through our new Dean V. White Real Estate Finance Program. These minors will prepare students to plan, develop and manage successful commercial real estate projects. Daniels School majors can minor in Real Estate Finance, while non-Daniels School of Business majors can minor in Real Estate.
It's in Our Genes
in the United States
MOST STARTUP COMPANIES FORMED

Matthew Lynall says the drive to innovate is in the university's genes.
"It's just the way we operate, and I think it's why faculty and students come to Purdue," says the director of Purdue's Burton D. Morgan Center for Entrepreneurship.
Lynall cites the university's 10-plus years of frozen undergraduate tuition; Purdue's response to the COVID-19 pandemic; and the university's approach to problem-solving.
"From the day he came on board, (Purdue president) Mitch Daniels made it very clear that our responsibility as a research organization and as a land grant university was to ensure that the research we do provides a benefit to society and the economy," Lynall says.
As director of the center for entrepreneurship, a clinical professor at the Daniels School who oversees IBE experiential learning projects, and director of Purdue's National Science Foundation Innovation Corps Site, Lynall has a 360-degree view of the university's innovation successes. He points to robust entrepreneurial and commercialization efforts as evidence of ongoing innovation.
"We have a really well-oiled pipeline for enabling students and faculty to take their ideas and their technology and translate them into valuable products and services," he says. "We are often visited by our peers because they want to see what we do and why we do it so well."
Purdue is ranked third in the country in number of companies formed based on university-based IP and is in the top 20 in terms of patents, he notes.
The university puts resources into innovation. The Burton D. Morgan Business Model Competition, one of the country's longest-running business model competitions, has a prize pool in excess of $100,000 thanks to an endowment managed by the Daniels School of Business. Many of the winners of that competition have gone on to form companies and many of those winners were our students, Lynall says.
Recently, undergraduate economics and finance major Christopher Jing, Class of 2021, co-founded AeonCharge, which Lynall calls the "Expedia of electric vehicle charging."
"They're really solving the problem that owners of electric vehicle have: how do I find a place to charge my electric vehicle?"