A key component in the new Daniels School of Business is the recruitment and retention of world-class faculty. Accordingly, one of the school's most accomplished professors now holds a chaired position.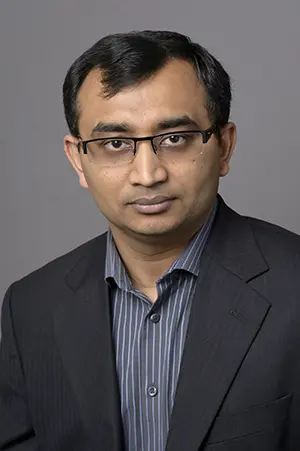 Thanks to the generosity of an anonymous donor, Mohammad Rahman is the Daniels School Chair in Management. Rahman joined the Purdue faculty in 2014 and has distinguished himself as a top researcher and educator.
His work, which primarily focuses on digitization economics, omnichannel retailing, innovations and inequality, and IT and decision making, has been published in top journals, including Management Science, Information Systems Research, MIS Quarterly, and MIT Sloan Management Review. He received the Jay N. Ross Young Faculty Scholar Award in 2015, the INFORMS Sandy Slaughter Early Career Award in 2018, and the Central Indiana Corporate Partnership Faculty Commercialization Award in 2020. The latter was presented for Rahman's innovative startup company Right Fit Analytics, a precision health-focused, evidence-driven prescriptive analytics solution for healthcare using artificial intelligence to learn success patterns.
Prior to joining Purdue, Rahman had been at the University of Calgary, where he received the Dean's Award for Outstanding New Scholar and the Dean's Award for Outstanding Research Achievement.
A member of the management information systems faculty, Rahman teaches data-driven decisions in digital business, web data analytics, digital transformations and markets, and data management and business analytics. He has been recognized by students as an Outstanding and Distinguished Teacher at the undergraduate, master's, and doctoral levels. When he was earning his PhD at Purdue, he received the Certificate for Distinguished Teaching, the highest recognition given by the business school for excellence in teaching by a doctoral student.
Rahman has expanded learning beyond the classroom. He was the lead organizer for the Krannert-Walmart Data Dive, believed to be the first data dive on a college campus, as well as the Dawn or Doom Data Dive in cooperation with Cisco.
"This is really an exciting time at the Daniels School as we double down on our pursuit of research excellence and focus on leading business education in the technology-driven economy."
In 2017, he was recognized by the website Poets&Quants as one of the "World's 40 Most Outstanding Business School Professors Under 40." One student described him as "one of the rarest professors who makes students comfortable in analytical thinking."
Rahman says, "This is really an exciting time at the Daniels School as we double down on our pursuit of research excellence and focus on leading business education in the technology-driven economy. I am honored to be part of the team and deeply appreciate being named the inaugural namesake chair of the school."