Three professors in the Mitchell E. Daniels, Jr. School of Business have been honored for their excellence in teaching. Winners were selected by a committee comprised of faculty, students, and teaching and learning staff.
Associate Dean for Undergraduate Programs Dr. Kelly Blanchard announced that the 2022-23 KATE Teaching Excellence Awards go to Timothy Moore for Excellence in Course Delivery, and to Matthew Lynall and Fabricio d'Almeida for Excellence in Course Innovation.
One hallmark of the new Daniels School is to ensure that standards in the classroom remain high, so the school is increasing the number of teaching awards to recognize outstanding performers. Last year, two KATE awards were given out.
Moore (above) is an associate professor of economics and a Purdue University Research Center in Economics faculty affiliate who researches economic determinants of health and illicit drugs and risky behaviors, among other topics.
His KATE selection was based on his delivery of ECON 362 Health Economics. Both recent students and alumni from the course highlighted Moore's ability to create an environment where students succeed.
His course emphasizes interaction and student participation using the Socratic method of "cold calling" students. While that can be intimidating, students in his course appreciate that Moore learns their names quickly and, as one course alum said, "If I or someone else gave a wrong answer, he would build off that answer, highlighting the ideas they got right."
A unique addition to the summer online version of Moore's course is the option of 15-minute oral exams. Students overwhelmingly cited this exam format as contributing to a deeper understanding of course material. In-class participation exercises and policy summaries reinforce course content and further create an engaging, inclusive experience.
Lynall and d'Almeida share the award for Excellence in Course Innovation for their MGMT 59000 Student Managed Venture Fund course. This course is a redesign of what was a small graduate course. It has evolved into a course for 30-40 undergraduate and graduate students and focuses on early-stage investing.
Lynall (left) is a clinical professor of management and the Avrum & Joyce Gray Director of the Burton D. Morgan Center for Entrepreneurship.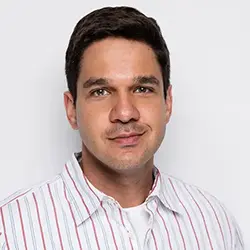 d'Almeida (right) is a clinical assistant professor of finance whose fields of interest include corporate finance, private equity, and international finance.
In their Student Managed Venture Fund (SMVF) course, student teams research investment in early-stage startups through personal interviews with experts, assigned readings and reflections, and state-of-the-art databases available through the Parrish Library of Management & Economics. After several cycles of practice, feedback, and revision, student teams present their analysis and recommendations to a venture capital syndicate that partners with the course. If the venture capital firm chooses to make an investment recommended by a student group, the SMVF co-invests with the firm. The course provides a unique "learning by doing" approach that immerses students in the world of venture capital investment.
Each Krannert Alumni Teaching Excellence (KATE) award provides $8,000 and an additional $4,500 in a professional expenditure account.