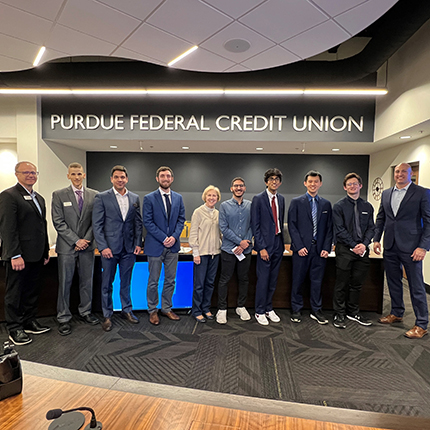 Purdue undergraduate students from across the West Lafayette campus recently took part in the annual Finance Management Research Challenge, a case competition made possible through alumni engagement and a partnership between the Mitchell E. Daniels, Jr. School of Business and Purdue Federal Credit Union (PFCU).
The challenge, now in its third year, was a two-round team project to determine whether a company loan should be approved or rejected. Judged by alumni, the first round was a virtual curricular activity for Financial Management (MGMT 310/304) in which all students participated. The second round was an extracurricular case competition for the top six teams identified in the first round. In total, it engaged more than 150 students and 35 Purdue alumni who provided feedback on the students' assessments.
The competition was developed by Clinical Assistant Professor Fabricio d'Almeida and Lecturer Phil Baez through the Center for Business Communication as an opportunity for students to apply the academic theory they learn in the classroom to solve real-world financial scenarios. In addition to d'Almeida and Baez, judges included Daniels School Professor Emeritus Charlene Sullivan; Adam McKinney, senior credit analyst at PFCU and a School of Business alumnus; PFCU Vice President Sam Burns; and PFCU Account Vice President Jon DeSmet.
"The experience allows students to practice the soft and hard skills employers seek," says d'Almeida. "It helps them become job-ready by developing presentation skills, critical thinking and teamwork ability. Students also get hands-on experience analyzing real data, applying class topics and combining their collective experiences."
The high-impact case competition differs from a typical project or final exam by aligning with Purdue's plans for a new School of Business focused on experiential learning activities and on Transformative Education 2.0, a Purdue Provost Office initiative, as well as helping meet standards for AACSB business school accreditation.
The students were challenged to evaluate a loan request from Mallet Inc., a duct and valve manufacturer located in West Lafayette, Indiana, that wants to acquire a new site to build a warehouse that will host future production lines. Because Mallet does not have the required capital to purchase the property, the company is requesting a loan of $5.94 million from PFCU to fund the acquisition.
Among other tasks, the students developed a qualitative and quantitative credit scoring model used in the decision-making process of accepting or rejecting loans. The model is typically based on information provided or gathered about the borrower that allows banks to assess loan risks based on factors including credit history, management experience, available capital, cash flow and collateral value.
Team Tiger 3 and Team Lion 4 tied for the top spot in the competition. The winning teams were comprised of Hesham Mohamed (Mechanical Engineering), Tej Raman (Actuarial Science and Data Science), Theodore Zhang (Economics and Business Analytics & Information Management), and Parker Alford (Actuarial Science and Applied Statistics).
"The case research competition provided me with a great opportunity to put the knowledge I learned from the class into actual practice," Zhang says. "This experience enhanced my understanding of the knowledge and concepts as well as improved my ability to solve real problems."
According to Bob Falk, president and CEO of PFCU, the winning teams backed their recommendations with analytics and strong presentation skills. "They could have easily just given us the numbers and moved on, but we wanted to see if they could put that together with what's going on with the economy and what's going on in the industry."
Falk says the experience also gave students a glimpse of possible careers. "I don't think students always recognize the many different jobs you can find in banking and finance," he says. "This competition opened their eyes to new opportunities and helped create a pipeline of future talent for our organization."