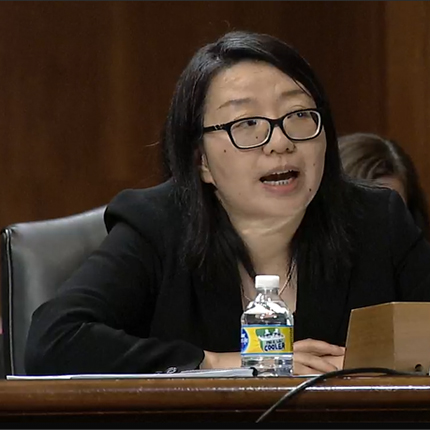 Susan Lu, the Gerald Lyles Rising Star Professor of Management at Purdue University's Mitchell E. Daniels, Jr. School of Business, recently offered expert testimony at a hearing of the United States Senate Special Committee on Aging.
Led by majority chairperson Bob Casey (D-PA) and ranking minority member Mike Braun (R-IN), the May 18 hearing focused on the strained nursing home inspection system and the need to improve oversight, transparency, and accountability.
"Being the only child in my family, I've always pondered how I could provide excellent care for my aging parents," Lu said in her opening statement. "In my quest, I recalled an old saying from my cultural background that emphasizes treating the elderly with the same respect and care we would give to our own parents. This led me to dedicate nearly two decades of research to this industry. Over time, helping the elderly to receive high-quality care has become the mission of my life."
As an award-winning researcher trained in economics and operations management, Lu's overarching objectives have consistently revolved around minimizing costs, maximizing social welfare, and efficiently and effectively allocating resources.
"The management of operational efficiency within healthcare delivery presents a formidable challenge for many countries grappling with aging populations and insufficient healthcare resources," Lu said. "Leveraging the tools of game theory, econometrics, and optimization methodologies, I delve into the drivers of healthcare delivery performance. My aim is to comprehend the effects of public policies and technological innovations on the operational and managerial aspects of elderly care."
Aligned with these objectives, Lu also provided written testimony to the committee in three key areas: quality disclosure, staffing, and ownership.
"Ensuring information transparency between medical providers and consumers is vital for delivering quality care," Lu testified. "The inherent challenge lies in the fact that older adults often struggle to accurately determine the quality of care before receiving it, and even evaluating it retrospectively can be problematic. Publicly disclosing quality information about individual nursing homes facilitates consumer identification of high-quality providers, reduces search costs, and enhances firms' responsiveness to quality through increased demand elasticity."
Given the urgent need to tackle nurse workforce shortages, Lu said it is essential to explore innovative ideas and have access to comprehensive data on individual nurses to evaluate and address staffing challenges effectively.
"Access to diverse dimensions of individual nurse data, including working conditions, factors influencing work-life balance, employment history, demographics, education, and geographic distribution, is crucial," she said. "Such data provides us with valuable insights into the dynamics of the nurse workforce, empowering evidence-based decision-making and enabling the development of targeted strategies."
With regard to ownership, Lu expressed concerns about the potential drawbacks associated with ownership conversions from nonprofits to for-profits and those facilities acquired by private equity firms.
"The disclosure of ownership to the public serves as a powerful mechanism to address asset-shielding behaviors among large chains and enforce accountability at the unit level," she told the committee. "By making ownership information transparent, the negative reputation and consequences of inadequate care within a single unit can spill over to the broader ownership entity. This effect significantly magnifies the impact of negative reputational events and provides a strong incentive for large chains to actively monitor the quality of care across all their units."
Click here to watch the full hearing.
Source: Susan Lu, lu428@purdue.edu