At the beginning of this year's Spring Intensive for the Larsen Leaders Academy (LLA), the 19 students taking part formed a circle, introduced themselves, and shared a simple message with the others: "You can count on me."
"It's a form of public commitment that sets the tone for the experience," says Steve Shelby, director of the LLA. "They look each other in the eye and reinforce that we're all in this together."
The event was the first of four leadership sprints for Larsen students that are designed to provide a rapid leadership development experience in an immersive, novel context. Students participated in a three-day, two-night overnight intensive at Lafayette's Camp Tecumseh to develop their leadership skills through role plays, vignettes, exercises, simulations, case studies, and practice. The offsite environment also created a fun teambuilding and social networking opportunity.
Held during the first weekend in April, the immersion experience placed emphasis on identifying one's own personality, communication, and leadership styles. Students had the opportunity to examine their styles with other students of similar and different styles, and were exposed to leadership competency models used by leading companies.
Students also developed skills and techniques on being a good team player, understanding differences in individuals and their motivations, and improving communication skills. A significant component of the workshop focused on emotional intelligence, why it is important and how one can improve on their own emotional intelligence. 
"The foundational lesson was that in order to lead teams and lead organizations, you must have a good understanding of yourself as a leader," says Professor Brad Alge, academic director of the LLA. "To that end, we incorporated teambuilding activities to establish and strengthen personal networks, build teamwork skills, and increase students' confidence to lead others."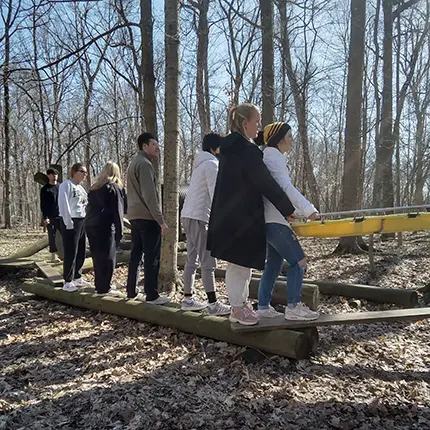 Following some fun, introductory exercises to open the weekend, students had an unexpected opportunity to bond when a tornado warning forced them to take shelter underground. "It was interesting to watch them naturally form into a cohesive group," Alge says. "We got to see how they reacted under stress."
Another key exercise required students to complete a series of obstacles and rely on problem solving and decision making to navigate a challenge course while using stretchers to rescue a person. "They really had to work as a team," Alge says. "They had to understand and accept their roles and be able to count on one another in real time."
Participants also divided into teams and followed a set of common instructions to create posters illustrating their personal leadership style. "There was a lot of variability in how teams communicated," Alge says. "Some were more text based, while others were more visually based, so it was a good opportunity to see and appreciate those differences."
Program Manager Cara Cray, who helps plan and execute immersion experiences at Larsen, used her creativity to help make the event impactful. "It was great watching students come together and support each other," she says. "Camp is a perfect setting for people to form lasting bonds."
Students earned one course credit for completing the spring intensive, which counts toward the Larsen Leaders concentration. "We want our students to find a purpose with passion," Alge says. "We are constantly challenging them to find their 'why' to lead the way."