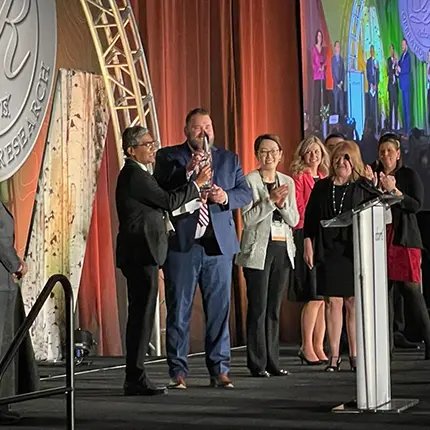 INFORMS, the largest association for the decision and data sciences, has awarded its 2023 UPS George D. Smith Prize to the Business Analytics and Information Management (BAIM) programs at Purdue University's Mitchell E. Daniels, Jr. School of Business. The award, which is open to programs from all academic disciplines, recognizes excellence in preparing students to become practitioners of operations research and analytics.
According to Mohit Tawarmalani, Purdue's Allison & Nancy Schleicher Chair of Management and academic director of the Krenicki Center for Business Analytics and Machine Learning, the undergraduate and graduate BAIM programs provide abundant experiential learning opportunities, including immersive experiences, paid projects and industry practicums. Students reflect and gain valuable skills by presenting their findings via social media, professional organizations and articles.
"The INFORMS UPS George D. Smith Prize recognizes the unique and personalized educational approach of our BAIM degrees in the field of business analytics and information management," Tawarmalani says. "This award reaffirms that our move to reimagine business education, focused on business analytics and integration with STEM disciplines, is timely and well-received by leading scholars and practitioners.
"We believe this recognition will help us in attracting an even more talented pool of students, faculty and corporate partners, leading to new and successful collaborative engagements that are mutually beneficial and will play a pivotal role in redefining the data revolution and enabling digitization."
The Daniels School launched the graduate BAIM degree in 2016 and the undergraduate degree in 2022. Both programs are designed with a framework that prioritizes real-world problems, accessible education, flexibility and top-notch analytics skills. This approach equips students with the skills they need to thrive in the rapidly evolving field of data-driven decision-making.
The BAIM programs are known for their rigor. They have shown consistent growth and yield significant student outcomes. With a strong emphasis on algorithmic reasoning, innovation and research-inspired courses, the programs challenge students to become bold creators, change agents and effective communicators. They also actively promote diverse perspectives and empower students to use analytics for the betterment of society and in enhancing human dignity.    
Clinical Assistant Professor Matthew Lanham, the Krenicki Center's associate director of student engagements, says industry partnerships and involvement in professional associations like INFORMS have been key to the programs' success, particularly at the master's level.
"The 60-plus corporate partners we have developed relationships with come back every year to pitch their ideas to us, and we are blessed to be able to be selective in matching projects to students who we feel will best showcase their knowledge, skills and abilities to employers," he says. "Since the graduate program began in 2016, more than 300 of our students have presented their industry practicum projects at the prestigious INFORMS Business Analytics Conference. No other program has come close to that."
Named in honor of the late UPS chief executive officer – a champion of operations researchers at a leading Fortune 500 corporation – the INFORMS UPS George D. Smith Prize was created in the spirit of strengthening ties between industry and the schools of higher education that graduate young practitioners of operations research. Purdue received the 2023 UPS George D. Smith Prize on April 17 at the Edelman Gala, a highlight of the 2023 INFORMS Business Analytics Conference in Aurora, Colorado.
Media Contact: Mohit Tawarmalani, mtawarma@purdue.edu