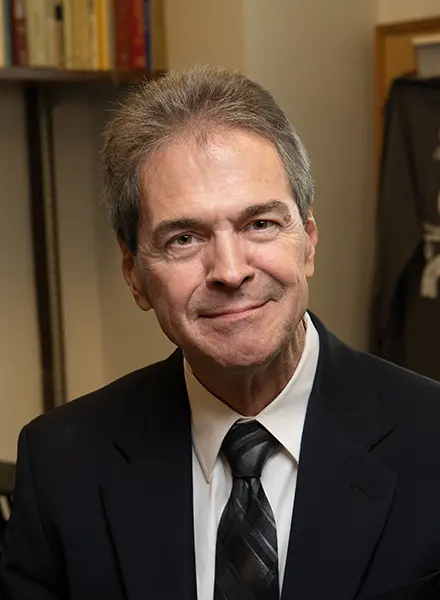 Michael A. Campion, a professor in the Mitchell E. Daniels, Jr. School of Business, won the 2023 Distinguished Professional Contributions Award given by the Society for Industrial and Organizational Psychology (SIOP). It is a lifetime achievement award for contributions to the improvement of practices in one's profession.
Purdue's Herman C. Krannert Distinguished Professor of Management, Campion won the award for how his research has led to improvements in employment interviewing, the analysis and design of jobs and teams, and a wide range of topics in personnel selection including enhancing fairness, preventing discrimination, new hiring procedures that better predict job performance, and uses of artificial intelligence in hiring.
"This award illustrates my life's pursuit to both generate and share knowledge," he says. "That includes working on problems that are important to organizations and employees and sharing the results with those who implement this knowledge in organizations as well as other scientists."
Campion, who began his career at IBM and Weyerhaeuser, has over 145 articles in scientific and professional journals and has given nearly 250 presentations at professional meetings. He is among the 10 most published authors in the top journals in his field for the last three decades, with nearly 35,000 Google Scholar citations and nearly 10,000 Web of Science citations. He is the second most cited author of over 9,000 authors in textbooks in both I/O Psychology and Human Resource Management.
Campion was also the 2010 winner of the Scientific Contribution Award given by SIOP, which is a lifetime contribution award for science and is the other most prestigious recognition given by the organization.   
He was nominated for the award by Purdue PhD alumna Talya Bauer, the Cameron Professor of Management at Portland State University and an award-winning teacher and researcher.
"Mike seems compelled (some might say obsessed) to look for insights in each applied project and research project that he can share with others in the profession. This has become his modus operandi," Bauer said in her nomination letter. "Most of his publications and SIOP presentations have been things he discovered or created in practice, starting in the late 1970s and he still does this today."
"Part of this success, it seems Mike has learned, is that organizations are more willing to use stronger research methods and designs if the project is important to them and the researcher explains and shows the value in the additional rigor and associated work," Bauer continued. "His view is that doing a project for practical purposes does not mean research quality should be sacrificed. The win-win result is that the research is also more publishable."
SIOP is the premier professional association for the science and practice of I-O psychology, consisting of over 10,000 PhD-level members. An independent organization with its own governance, SIOP also represents Division 14 of the American Psychological Association and is an organizational affiliate of the Association for Psychological Science. Campion received the award at the 2023 SIOP Annual Conference in Boston, Massachusetts.