Typically, young women who excel in math and science are pushed toward careers in math, science or engineering.
Cara Putman would like to add another option.
"Business is a fantastic place for strong STEM students," says Putman, director of the Brock-Wilson Center for Women in Business and clinical assistant professor. "We want to recruit top young people from around the country, provide great opportunities while they are here, and graduate women who are holistic, confident leaders."
Through programming for high school students, experiential learning and networking for current students, and strategies gained through gender-based research, the Brock-Wilson Center prepares women to overcome gender obstacles in the workplace.
"We want to provide an opportunity for them to make a difference," Putman says.
Starting early
In partnership with Purdue's Summer College for High School Students, the Brock-Wilson Center offers an annual program, the Empowering Women in Business Fun-Sized Course. Designed for rising juniors and seniors, the five-day residential program on the West Lafayette campus includes hands-on activities to promote team building and skills in leadership, confidence and negotiation.
The course, which draws more than 100 students annually, is offered for college credit and introduces students to the business principles of economics, strategy, marketing, supply chain and finance. It concludes with a team business plan pitch to a panel of judges. Students are introduced to a week of college-style living while developing a network of peers.
"My school encouraged us to come to this camp," says Leyla Benjelloun from Fishers, Indiana. "It was a good way to expand and use our summer and was a great experience overall, especially the pitch competition. I would definitely recommend it to others who are interested in business."
High school students also can learn about the center's activities through sessions with the Brock-Wilson Center for Women in Business Ambassadors, a group of students who conduct sessions during the Purdue's for Me days on campus.
Opportunities abound
Once students enroll at Purdue, they can choose from a menu of courses and extracurricular experiences. Navigating Gender in the Workplace (MGMT 29400) examines the impact of gender in the work environment and how to develop leadership strategies to help achieve higher levels of performance. Bridging the Gender Divide at Work (MGMT 29450) pairs students with career mentors to examine real experiences of women in the workplace.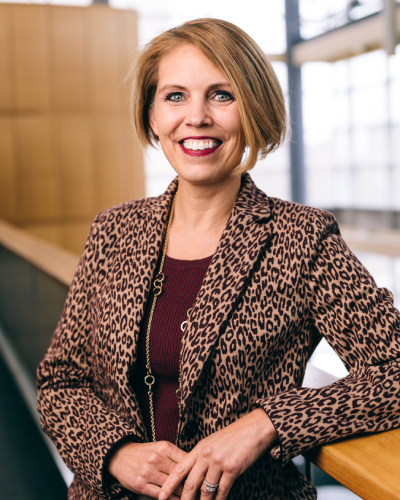 Accomplished professionals travel to campus as part of the Intersectionality Speaker Series, highlighting the narratives of men and women who discuss the gender equity obstacles they faced and how they successfully overcame them.
First-year students can participate in the Women in Business Learning Community. Physically located in Meredith Hall South, the community provides a support network for women as well as field trips, teambuilding activities, and mentoring and networking events.
"Our school has more than 3,000 students, but a learning community has 20 to 30," Putman says. "Even a large university can feel very personal when you're in a learning community, and you gain a sense of belonging."
Providing an opportunity to put classroom learning into action the Brock-Wilson Center conducts the PowerShift Case Competition. Students explore real issues related to gender in the workplace and improve their communication skills as they present their findings. The most recent case focused on COVID-19 implications for working women.
"We've all seen the studies and research that shows that the pandemic has had a disproportionate impact on women having to leave the workforce because of situations like schools being shut down. Students create plans to present to a business on how they can minimize the impacts for women, which gives them a chance to look at a real-world issue and advocate for a plan that balances the gender divide in a way they can understand," Putman says.