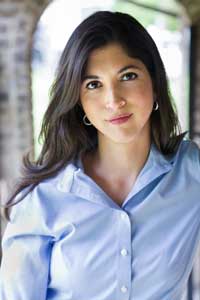 Leadership and Diversity Pioneer, CEO of MindWorks and Best-selling Author
Thursday, November 15, 2012
7 p.m.
Purdue Memorial Union
Main floor, South Ballroom
Nina Godiwalla is a recognized expert on leadership, diversity and women in the business world.  She is the bestselling author of Suits: A Woman on Wall Street, which The New York Times describes as "The Devil Wears Prada of investment banking."  The book is an insider's perspective on her experience at Morgan Stanley from an outsider's point of view-woman, second-generation Indian American and Texan.  USA Today chose Suits as a top pick, and FORTUNE magazine call is a "must read".
Godiwalla is also the CEO of MindWorks, which provides leadership and stress management training to corporations and other professional organizations.  In addition to running MindWorks, she is an industry leader for The Wall Street Journal Executive Task Force for Women in the Economy, leadership instructor for the University of Texas MBA Program, and writer for Wharton Magazine.  Godiwalla has been a keynote speaker at a variety of venues including The World Affairs Council, Smithsonian, Harvard and TEDXHouston.  Before becoming an internationally sought-after speaker, Godiwalla spent almost a decade working for Fortune 500 corporations.  She is often featured in major media including USA Today, Forbes, CNN, ABC, FOX and NBC.  She has a M.B.A. from Wharton, a master's from Dartmouth and a B.B.A from the University of Texas.  In 2012, along with Barbara Bush and Sandra Day O'Connor, Godiwalla was honored into the Texas Women's Hall of Fame.