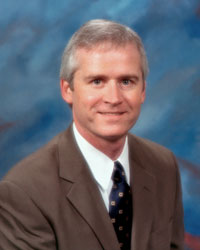 VP environmental affairs and sustainability, FedEx
Thursday, April 7, 2011
7 p.m.
Fowler Hall, Stewart Center
Mitch Jackson develops the sustainability strategy and vision to ensure that FedEx minimizes its environmental footprint while still delivering outstanding customer service.
FedEx provides solutions that connect the world and give people the access that allows businesses to prosper worldwide. As one of the world's largest transportation companies, we understand that our operations have an environmental impact. FedEx is committed to environmental stewardship and the innovation of new technologies to lessen that impact. As Vice President of Environmental Affairs and Sustainability, Jackson also provides the environmental sustainability perspective on larger projects and initiatives so that FedEx keeps its eco-advantage.
Jackson spearheaded the implementation of Hybrid vehicles for FedEx which now has the largest commercial package delivery fleet in North America. In conjunction with the FedEx Government Affairs department, he was instrumental in successfully pushing legislation for fuel economy standards in commercial trucking.
With FedEx for more than 20 years, Mitch was recently named to Ethisphere Institute's 2009 list of the 100 Most Influential People in Business Ethics. He sits on The Keystone Center's national Energy Board and serves on the American Trucking Association's board of directors. He has served as an environmental juror for the Heinz Awards and is a past chairman of the Global Environmental Management Initiative (GEMI).
Jackson received his bachelor's degree in Mechanical Engineering and his master's degree in Operations Management. He is also a two-time recipient of FedEx's prestigious Five Star Award, the highest recognition bestowed by FedEx.