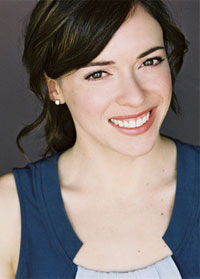 co-founder of kiva.org
Tuesday, September 14, 2010
7:00 p.m.
Fowler Hall, Stewart Center
Jessica Jackley is a co-founder of Kiva.org, the world's first peer-to-peer online microlending Web site. Named as one of the top ideas in 2006 by the New York Times Magazine and called "revolutionary" by the BBC, Kiva (www.kiva.org) lets Internet users lend as little as $25 to specific developing world entrepreneurs, providing affordable capital to help them start or expand a small business. Kiva has been one of the fastest-growing social benefit Web sites in history, and since its founding in 2005, has loaned over $100 million from lenders to entrepreneurs across 182 countries.
In the midst of these successes, Kiva remains focused on a very simple idea: bringing people closer to each other. Kiva's mission, "to connect people through lending to alleviate poverty," and the idea that relationships are a powerful force for positive change, remain foundational for the organization's strategy – and for Jackley's work.
Jackley first saw the power, beauty, and dignity of microfinance while working in rural East Africa with microenterprise development nonprofit Village Enterprise Fund on impact evaluation and program development. Sector-agnostic about social change, Jackley has worked for public, nonprofit, and private organizations including the Stanford Center for Social Innovation, Amazon.com, Potentia Media, the International Foundation, World Vision, and others.
In the summer of 2009, Jackley began work on a new platform, ProFounder, that provides new ways for small businesses in the U.S. to access start-up funding through community involvement. Jackley also currently teaches Global Entrepreneurship at the Marshall School of Business at USC.
Jackley's work with Kiva has been featured in a wide array of media and press including Oprah, the Today Show, CNN, BBC, NBC, ABC, PBS, NPR, the Wall Street Journal, New York Times, The Economist, and more. A finalist for Time's 100 Most Influential People of 2009, Jackley has received numerous awards for her work, and speaks widely on microfinance and social entrepreneurship. Jackley currently serves as a director on several boards (both non-profit and for-profit), and is an active member on a number of affiliate groups championing women, tech, and the arts.
Jackley holds an MBA from the Stanford Graduate School of Business with Certificates in Global Management and Public Management, and a BA in Philosophy and Political Science from Bucknell University.
Last but not least, Jackley is a trained yoga instructor, avid surfer, and poet.