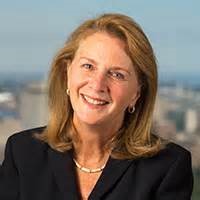 Jane Brock-WIlson
Managing Director, Berkshire Partners
The Brock-Wilson Center for Women in Business is named after Purdue graduate and Lafayette native Jane Brock-Wilson. Brock-Wilson is managing director of Berkshire Partners. The longtime university supporter is making a $1 million gift to advance women in management by providing undergraduate scholarships for women enrolled in Purdue's Daniels School of Business. She is providing the gift to create a supportive culture for women in management at Purdue.
Brock-Wilson joined Berkshire Partners in 1991 and became managing director in 1994. She has been a director of several of Berkshire's business services, consumer products and industrial management companies. Brock-Wilson was formerly a partner at Bain & Co., where she worked with clients on strategic, operational and marketing issues in a variety of industries.
She holds a bachelor's degree in Industrial Management from Purdue University and an MBA from Harvard Business School. Brock-Wilson was honored with the 2014 Krannert Business Leadership Award.
"Jane Brock-Wilson is one of the finest alumni Purdue has ever produced," says Purdue President Emeritus Mitch Daniels. "With this wonderful gift, we increase the chances that the world will benefit from more great businesswomen like her in the decades ahead."
Brock-Wilson's gift resulted in a $1.5 million match from Purdue Research Foundation, made available by donor funds, for a total of $2.5 million dedicated to advancing women in management.
"We're incredibly grateful to Jane for her leadership role in this vital initiative," says David Hummels, Dr. Samuel R. Allen Dean of Purdue's business school. "The center will allow us to award scholarships to significantly improve access for women in our programs. It will provide thought leadership in how women play an important role in corporate America. It also will give us an opportunity to provide experiential learning and engagement opportunities that will extend the impact of a business school education beyond the years a student spends on campus."