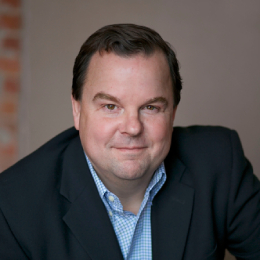 John Annakin
BSIM '91
National Director, Private Equity Consulting
John has over 30 years of experience as a revenue growth executive building and executing on go-to-market strategies in the data analytics/IOT/machine learning and software-as-a-service space. He is a high-growth, transformational executive with direct responsibility for several venture-backed investment rounds and private equity exits.
At RSM, John manages the overall relationship between the firm and private equity clients including all portfolio company services across all lines of business. One of his primary responsibilities is to build strategic PE account teams that focus on driving value throughout the investment lifecycle resulting in tangible outcomes for the client.
Prior to joining RSM, John served as Chief Revenue Officer for ClearObject, Inc., a leading IOT and machine learning services firm. During his time with the company, ClearObject was named Inc. Magazine's fastest growing IT company in the State of Indiana for four consecutive years. The company was acquired by two private equity firms in January of 2019.
Before joining ClearObject, John was Director of Global Enterprise Sales for Scribe Software Corporation (acquired by Tibco (now Citrix)), the leading data integration SaaS solution for Microsoft's Dynamics business applications.
John is a Boilermaker, holding a Bachelor of Science degree from Purdue University, Daniels School of Business.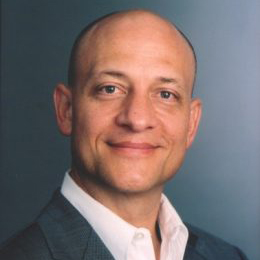 John Boudreau
PhD '81, MSIA '78
Professor Emeritus, University of Southern California
2023 John S. Day Distinguished Alumni Academic Service Award Honoree
Dr. Boudreau is recognized worldwide for breakthrough research on the bridge between superior human capital, talent and sustainable competitive advantage. His research has received the Academy of Management's Organizational Behavior New Concept and Human Resource Scholarly Contribution awards.
John consults and conducts executive development with companies that seek to maximize their employees' effectiveness by quantifying the strategic bottom-line impact of superior people and human capital strategies. He has published more than 50 books and articles. In addition to HR metrics, his research has addressed decision-based HR, executive mobility, HR information systems and organizational staffing and development. His research findings have been published in dozens of academic and professional journals.
The recipient of the General Mills Award for teaching innovations at Cornell University, John also founded the Central Europe Human Resource Education Initiative, which links American HR professionals and academic researchers with faculty and students in the Czech and Slovak Republics. He has directed the Center for Advanced Human Resource Studies (CAHRS), which partners executives from America's top corporations with university researchers and students to explore leading-edge HR issues. He is a Fellow of the National Academy of Human Resources. He is a member of the board of advisors the Human Resource Planning Society, and for Brassring.com, a technology information and career portal.
John is a Trustee for the Foundation of the National Academy of Human Resources. He chaired the Academic Advisory Board of the California Strategic HR Partnership, a silicon-valley HR executive consortium, and served on the boards of advisors for the Saratoga Institute, a leading global source of human capital benchmarking and performance measures. He has also been elected to the executive committees of the Human Resources Division of the Academy of Management and the Society for Industrial and Organizational Psychology.
Mike Eriksen
Professor of Economics & Director of the Dean V. White Real Estate Finance Program
Dr. Eriksen is an urban economist who joined the Daniels School after serving as the West Shell Associate Professor of Real Estate at the University of Cincinnati and academic director of the UC Real Estate Center. He directs our new Dean V. White Real Estate Finance Program.
Mike holds a bachelor's degree in economics and biology from Gonzaga University, and a PhD in economics from Syracuse University. He was previously on the faculty at the University of Georgia and Texas Tech University, and was a visiting scholar at the Federal Reserve Bank of Cleveland. He has published in top academic journals and has been cited in both national media and U.S. Congressional testimony about potential reforms to real estate markets.
He teaches real estate fundamentals and is very involved in the Daniels School's two new minors in real estate and real estate finance.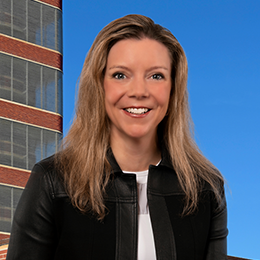 Kim Hauer
BS '97
Executive VP and Chief HR Officer, SC Johnson
2023 Distinguished Alumni Award Honoree
Kimberly Hauer is executive vice president and chief human resources officer at SC Johnson. Kim joined SCJ in December 2016 as senior vice president and chief human resources officer. She leads the company's global HR function and is responsible for human resources policies and workplace practices around the world.
Kim joined SCJ from Caterpillar, where she was vice president and chief human resources officer since 2011. Prior to that, during her nearly 20-year career at Caterpillar, she held a wide array of HR roles including international assignments in Switzerland and Belgium.
Kim has been honored by HRO Today magazine by receiving the 2016 CHRO of the Year Lifetime Achievement Award, recognition of her accomplishments both internally to the company and externally within the HR field. She is a board member of the HR Policy Association, Core Construction and was a founding member of the American Health Policy Institute. She also serves as a member of the Dean's Advisory Council at Purdue University. She earned a bachelor's degree in management, with emphasis in human resources, from Purdue University in 1997 and has been certified as a Human Resources Professional.
She resides in Lake Bluff, IL, with her husband, Jason, and their two daughters.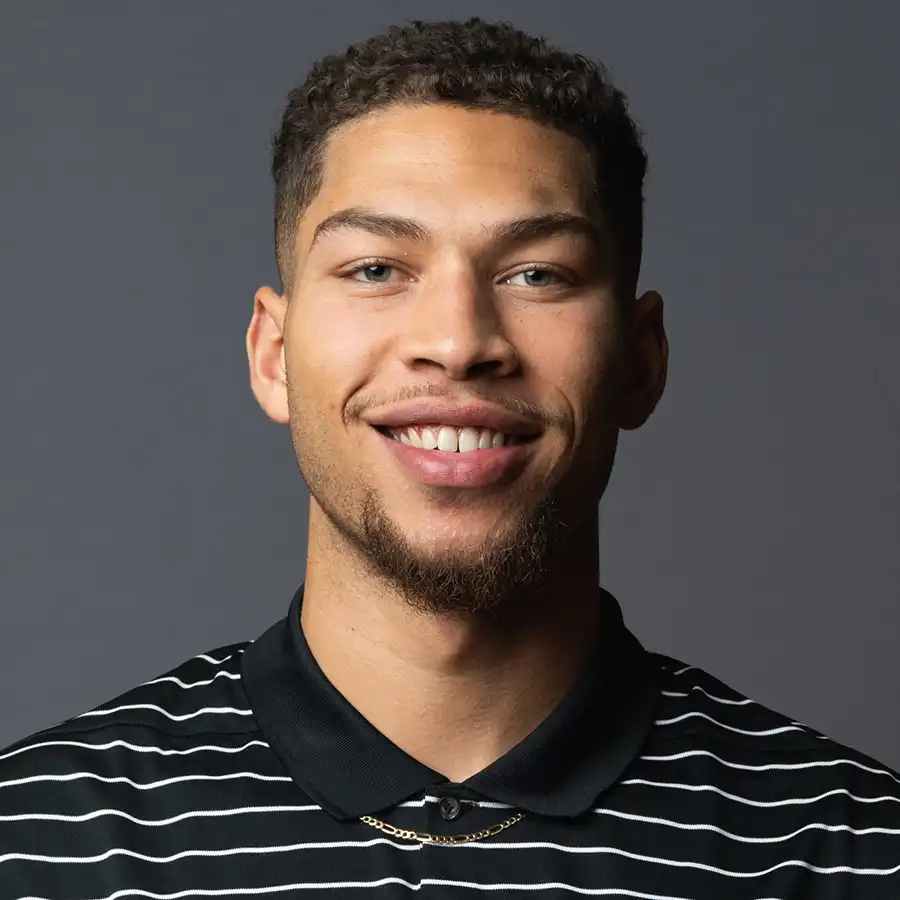 Mason Gillis
BS Purdue Polytechnic Institute '22
& current Daniels School of Business MBA student
Purdue Men's Basketball
Player Mason Gillis just finished his junior season with the Purdue men's basketball team. The 6-6 native of New Castle, Indiana, started 15 games for the Boilermakers' Big Ten championship squad, averaging 6.8 points and 3.8 rebounds per game.
Gillis was one of the state's top baseball players in high school, but he opted to focus on basketball. He suffered a knee injury in the first AAU game between his junior and senior years at New Castle High School and missed his senior season. Two knee surgeries later, he came to Purdue in the fall of 2019 and redshirted his freshman year. By the time he made his debut in 2020, he had gone 985 days without playing a competitive game.
Gillis had a strong redshirt freshman campaign, starting 23 of 28 games and averaging 5.2 points a game. He increased his production in 2021-22, scoring 6.4 points a game and shooting better than 42 percent from 3-point range with 25 starts. CBS Sports reporter Jon Rothstein named him to his "All Glue-Guy Team" for giving maximum effort every time he stepped on the floor. Strong in the classroom, Gillis also earned Academic All-Big Ten honors in both seasons, and he earned a bachelor's degree from the Purdue Polytechnic Institute in 2022.
Pursuing an MBA from the Daniels School, Gillis set a Mackey Arena record last season by connecting on nine 3-pointers in a win over Penn State. He was a standout in the Big Ten Tournament, helping Purdue to another title while averaging 10.7 points and 5.3 rebounds per game, and Rothstein awarded him "All Glue-Guy Status" for the second straight year.
Zhan Pang
Lewis B. Cullman Rising Star Professor of Management
Dr. Pang is the Lewis B. Cullman Rising Star Professor of Management at the Mitchell E. Daniels, Jr. School of Management and the Purdue Innovation and Entrepreneurship Fellow. He is the coordinator of the doctoral program in Supply Chain and Operations Management (SCOM). He is also a committee member of the school's PhD program and the Purdue Graduate Council. Prior to joining Purdue, he was associate professor in City University of Hong Kong, senior lecturer in Lancaster University, and adjunct professor in Norwegian School of Economics.
His research interests include statistical learning and decision theory, healthcare delivery systems, supply chain risk management, and pricing and revenue management. He is a senior editor for Production and Operations Management  and a founding editor of Journal of Blockchain Research. He teaches Operations Management, Supply Chain Management and Strategic Sourcing and Procurement.  
Zhan is passionate about experiential education. He formed partnerships with many world-leading corporations and created real-world projects as course projects in the class, which integrated classroom learning and corporate project based experiential learning and allow students to be exposed to the real-world challenges and apply what they learn in the class to the real-world problems. Following Purdue's vision on educating leaders in data science, he is also striving to introduce various data analytics applications and methods in courses.
Zhan has rich industry experience as entrepreneur and management consultant. Since he joined Purdue, he has formed research and experiential learning partnership with many corporations including but not limited to Dow Chemical, Corteva and Wabash. He is also working closely with healthcare service organizations to help them improve efficiency and quality of care and design sustainable business models. As Purdue's Innovation and Entrepreneurship Fellow, he serves as a faculty ambassador to help connect Purdue innovators with novel paths for entrepreneurship and commercialization to take the innovations to the world.
Kelvin Pennington
BSIM '80
Managing Director, IMB Partners
Distinguished Service Award Honoree
Kelvin J. Pennington has been an advisory board member to IMB Development Corporation since 2010 and became a managing director in 2020. IMB is a private equity independent sponsor firm focused on making control acquisitions of lower middle-market companies.
From 1990 to 2020, Kelvin served as the managing principal of Pennington Partners & Co. (PPC). PPC and its affiliated partnerships provided private equity investment management and financial consulting services to lower middle market sized companies.
Prior to PPC, Kelvin worked for Prudential Capital Corporation in various capacities including vice president of corporate finance. He was responsible for making and managing investments in middle-market leveraged buyouts.
Kelvin received a BS in Industrial Management from Purdue University in 1980 and an MBA from the University of Chicago Booth School of Business.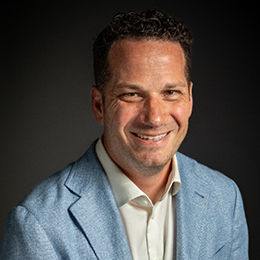 Christian Piller
BSIM '07
President, Pollen
Young Alumni Award
Christian Piller is co-founder and president of Pollen Technologies Inc., where he is responsible for business development, fundraising, sales, and strategy. Christian brings 15-plus years of experience of supply chain digitalization and execution from project44, Amazon, and Grainger.
He is a lecturer at DePaul University's Kellstadt Graduate School of Business and an instructor for the University of Tennessee's Executive Education for the Department of Homeland Security (DHS). He has been quoted in several publications, including the Wall Street Journal, Forbes, Inbound Logistics, SupplyChainBrain, and American Journal of Transportation.
Christian earned a bachelor's from Purdue University where he was a member of the Sigma Chi Fraternity. He and his wife, Michelle, live in Chicago.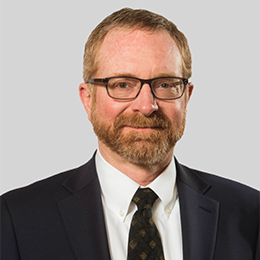 Dave Randich
BSIM '83
Retired President - Masterbrand Inc.
2023 Business Leadership Award Honoree
Dave Randich led Masterbrand as president from 2012 until his retirement in December 2019.  During his 7-plus years as president, Dave and his team nearly doubled the size of the company through acquisitions, product innovation, growth investments, and market share gains.
Since his graduation from Krannert in 1983, Dave developed a successful career as an international business leader, living and working in Europe and Asia for fourteen years, and leading four global businesses in the consumer durables/building products sectors.
Prior to Masterbrand, Dave led three other companies in the US and Europe: president of Therma-Tru Inc, the #1 US entry door brand (2007-2012); CEO of Armstrong DLW GmbH based Frankfurt, Germany (2004-2007); managing director of Armstrong Ceilings-Europe, based in London, England (2000-2004)
Early in his career, Dave progressed though global supply chain and manufacturing positions including production supervisor in Macon, GA; start-up plant manager in Shanghai, China; and general manager over plants in the US, Europe, and Asia. Dave earned an MBA at night from Mercer University while working as a production supervisor.
Today, as a lecturer in Purdue's Mitchell E. Daniels, Jr. School of Business, Dave works to bring real-life experience into the classroom. One of the three courses he teaches is MGMT 332, Problem Solving in the Business World, which engages students to work in cross-functional teams to analyze a business challenge, develop recommendations, and persuade decision makers.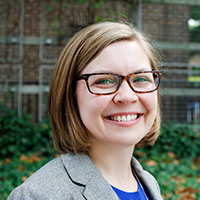 Lindsay Relihan
Assistant Professor of Economics
Dr. Relihan arrives at the Daniels School from the London School of Economics, where she was an assistant professor of real estate economics and finance. She is an applied microeconomist with interests in urban economics, household finance, and real estate.
Lindsay graduated with a PhD in Applied Economics from The Wharton School, University of Pennsylvania. She has served as a research assistant at the Federal Reserve Board in Washington, D.C. She has been instrumental in the building of our school's new Dean V. White Real Estate Finance Program.
Among the courses she teaches is a required, introductory course, Real Estate Fundamentals, that covers real estate terminology, roles in the industry, and tools used to make informed decisions.
Tarrus Richardson
BS '91
Founder & CEO, IMB Partners
Burton D. Morgan Entrepreneurship Award Honoree
Tarrus Richardson is the CEO of IMB Partners. Founded in 2010, IMB Partners is an acquisition driven business that invests in middle market companies that provide services to the utility sector and government agencies, with a focus on women and minority business initiatives and solutions.
Today, IMB has over a billion in revenues and 700 plus employees via eight partner companies: Pro Foods Solutions, a $280 million food supplier to US military markets; Carr & Duff, an $100 million electrical contractor; Farwest, a 65 million corrosion control company; e&e IT and Ashburn Consulting, a $40 million combined provider of IT solutions to state agencies and the federal government; and IMB Solutions, a $550 million provider to the pharma industry.
Prior to IMB, Tarrus has served as CEO, founder and/or lead director of: ICV Partners, Chung's Foods, Gold Coast Securities Ghana, The Hilsinger Company, and PFM. He is also the founder of the Council of Urban Professionals (CUP), the founding board chair of All Star Code, past president of the Purdue Black Alumni Organization and the lead funder of two documentaries: BlackPurdue and Reginald Lewis – the Making of a Billion Dollar Empire.
He received a BS in Accounting from Purdue University, where he served as the student body president and as a member of Kappa Alpha Psi Fraternity. He also received an MBA from Harvard Business School, where he was a Robert Toigo Fellow.
Tarrus is married with two sons who are enrolled in college in Los Angeles, CA.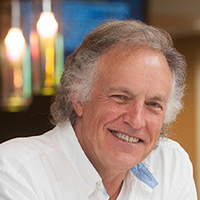 John Umbeck
Professor of Economics
Dr. Umbeck has been with the business school since 1975. His main teaching interests include microeconomics, law and economics, economics of information, and private contracts. His principal research interest is the economics of crime and contract enforcement. His publication credits are many.
John has served as a consultant for more than 50 corporations and government agencies, and has offered expert economic testimony at the federal level before the U.S. Senate, the House of Representatives, the Federal Trade Commission, the Environmental Protection Agency, the Department of Energy and the International Trade Commission and numerous state senates. He has also served as an economic consultant in more than 75 law suits, mostly involving antitrust issues. Throughout his career, he has received more than 25 awards for outstanding teaching.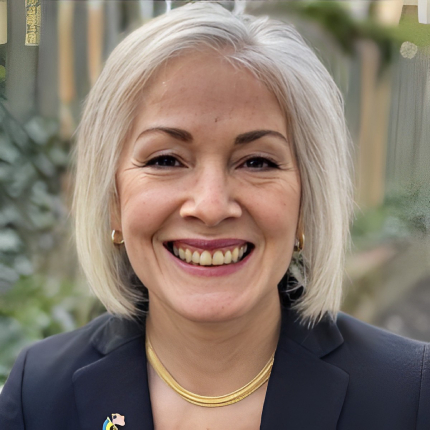 Marie 
Yovanovitch
Former U.S. Ambassador to Ukraine
Marie Yovanovitch served three times as U.S. Ambassador, most recently in Kyiv as the U.S. Ambassador to Ukraine. Previously, she served as U.S. Ambassador to the Kyrgyz Republic (2005-2008) and the Republic of Armenia (2008-2011). She retired from the Foreign Service in 2020 and is currently a senior fellow at the Carnegie Endowment for International Peace and a non-resident fellow at the Institute for the Study of Diplomacy at Georgetown University.
Born into a family that survived both Soviet and Nazi terror before emigrating to the U.S., Yovanovitch rose to the top of her profession in the crucible of the former USSR. Following early assignments in Moscow, London, Ottawa, and Mogadishu, she served as deputy director of the Russia Desk and then, as a career member of the Senior Foreign Service, she was named deputy chief in Ukraine. Within the Department of State, she has worked on the Russia desk, the Office of European Security Affairs, and the Operations Center. She also served as the Dean of the School of Language Studies at the Foreign Service Institute, U.S. Department of State and as the Deputy Commandant and International Advisor at the Dwight D. Eisenhower School for National Security and Resource Strategy, National Defense University. 
Yovanovitch earned the Senior Foreign Service Performance Award eight times and the State Department's Superior Honor Award on nine occasions. She is the recipient of two Presidential Distinguished Service Awards and the Secretary's Diplomacy in Human Rights Award. Following her retirement, she received the Trainor Award for Excellence in the Conduct of Diplomacy, the inaugural Richard G. Lugar Award, the 2020 PEN/Benenson Courage Award, the Morgenthau Award, the American Spirit Award for Distinguished Public Service, and the Paul H. Douglas Award for Ethics in Government. 
Yovanovitch's memoir, Lessons From The Edge, was a New York Times bestseller. The late Madeleine Albright called the book "A brilliant, engaging, and inspiring memoir from one of America's wisest and most courageous diplomats — essential reading for current policymakers, aspiring public servants, and anyone who cares about America's role in the world."