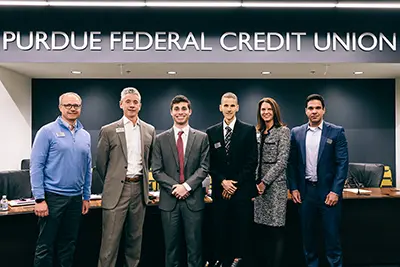 In a recent case competition, students partnered with Purdue Federal Credit Union and were challenged to evaluate a loan request from a fictitious wire and cable manufacturer.

We will build upon the success of our Center for Business Communication, which offers competition experiences both integrated into course curricula and outside of the classroom. Foundational communication skills will be honed via dramatically expanded use of case competitions, to sharply enhance communication, teamwork, problem solving, and professionalism in our students.
A case competition is an academic competition in which students come together to solve a case, or issue, under time constraints. Working in teams, students deduce a recommendation that they support in a presentation in front of judges or company sponsors. These experiences allow students to improve competencies highly valued by employers.
The cases are often constructed by corporate partners, giving students the opportunity to showcase their problem-solving skills to potential employers.
Students can attend and participate in national case competitions across the country in addition to on-campus competitions. We will increase funding for students to travel to compete in off-campus case competitions. 
case competitions & workshops
150+
corporate partners in 2021-22
Center for Business Communication, 2022
We will dramatically increase the number of students who participate in case competitions and related workshops. Through our Partnerships Office, we will grow our number of corporate engagements.
Our enhanced Center for Business Communication, new writing lab, and Cornerstone for Business series will train students to think critically and communicate effectively. We'll place a special focus on ensuring students can interact well with others, a focus often missing in a traditional business school curriculum.