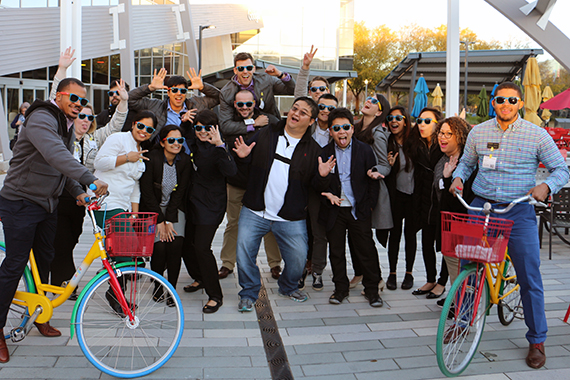 City treks like the recent trip to the San Francisco Bay Area provide students an introduction to companies, industries and cities throughout the U.S., as well as the opportunity to represent Krannert and network with alumni. (Photo provided)
Tech Trek
San Francisco trip links students with alumni and tech execs
Spring 2017

By Eric Nelson
Sixteen students from various Krannert master's programs (MBA, MSBAIM, MSHRM and MSF) trekked to the San Francisco Bay Area in early January to connect with Krannert alumni and their companies in the Silicon Valley region, California's legendary hotspot of technology startups.
Wendy Dukes, the Krannert School's director of corporate stewardship and alumni engagement, and associate director Jessica Chapman accompanied the students on the trek, which Dukes coordinated with Claudine Meilink, associate director of graduate outreach.
"The visits provided insight into a variety of different industries and career disciplines, from data analytics and entrepreneurship to operations and supply chain management," Dukes says.
The group got to business quickly in downtown San Francisco, visiting on day one with Krannert alumnae Julie Wainwright (BSIM '79), founder and CEO of therealreal.com; Natalia Bogdanova Matly (BSM '09, MBA '13), HR business partner at Yelp; and Vicky Gu (MBA '07), global branded merchandize buyer at Uber.
With an assist from alumnus Francisco Rius (BSM '04, MBA '07), senior manager of player analytics and forecasting at Electronic Arts in Vancouver, British Columbia, the group began its second day at EA's headquarters in Redwood City, California.
Their next visit took them to Drawbridge, a programmatic advertising company based in San Mateo, California, where they met with COO Winston Crawford (MBA '05). They also enjoyed a fireside chat with company founder and CEO Kamakshi Sivaramakrishnan, who spoke to them about the challenging and fast-paced environment of tech-based entrepreneurship. 
The trekkers finished day two in Mountain View, California, where they met with alumnus Michael Tian (MBA '08), head of west coast transportation at Google Express, and toured the company's high-tech headquarters, Googleplex. An alumni networking event at a Bay Area watering hole capped off the night.
On their last full day in the Bay Area, the group made a stop at Tesla Motors to see the future of automobile manufacturing with alumni and global supply managers Brandon Reed (MBA '11) and Ricardo Ferreira (MBA '16), followed by a visit to Facebook with alumna Lesle Schwarderer (BSM '98), who directs the social media giant's marketing insights area.
"The San Francisco Tech Trek was an amazing experience," says first-year MBA student Jacob Robison. "We were able to make personal connections with alumni who work with some of the biggest names in the tech industry. It was a great opportunity to speak with executives from companies that do not often visit our side of the country. Having alumni who are excited to meet us and share their time is invaluable."